Keeping Shakespeare's works alive
With semi finals round the corner Tahnee Hopman looks back at the beginnings of the Inter - School Shakespeare Drama competition
View(s):
When the YMCA began its work in Sri Lanka in 1882, Queen Victoria was a toddler of three years. Over the 130 years that followed, the objective of the YMCA which began as a small prayer and Bible study group, was to provide a space in which youth could have the opportunity to grow outside of its school curriculum.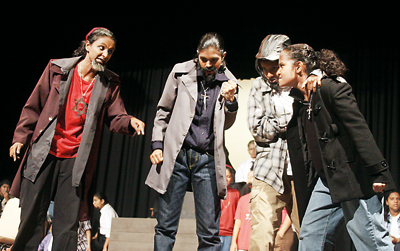 The well known YMCA building at St. Michael's Road has seen the building and equipping of the country's first gymnasium, Radio Ceylon's first live broadcast, the conceptualization of a model parliament forum (a forum several generations of students are familiar with), the introduction of 11 sports to Sri Lanka, and the country's most anticipated Inter School theatre event- the Shakespeare Drama Competition.
"The YMCA has always been associated with a longstanding tradition of drama," says Lal Withanage, President of the Colombo YMCA, adding that the beginning of the competition was several decades ago, but that the competition as it is known today was revived 39 years ago.
"It was a time in which English no longer existed as a medium of study but as a second language. It was believed then, that a platform on which students could have fun while engaging in reading, studying and performing literature and drama as well as give free rein to their creativity, was the need of the hour," says Mr. Withanage.
Since then, it is safe to say that almost every well known Sri Lankan theatre personality has been part of the competition, and the competition has evolved because of what these actors, actresses, directors and producers have brought to the stage each year.
Amendments have been made over the years, but the YMCA maintains that in essence, the competition remains what it was at the beginning- a hub of learning, creativity and interaction, and all the commitment, hard work and team effort that is part and parcel of 'Shakes.'
This year's competition which is as always, sponsored by the Rotary Club of Colombo North, kicks off with the semifinals from September 17- 19, which will take place at the Lionel Wendt from 9am. With schools performing excerpts from 'Julius Caesar,' 'Henry V', 'Romeo and Juliet', 'A Midsummer Night's Dream', 'A Winter's Tale', 'Two Gentlemen of Verona', 'The Life and Death of Richard II' and 'Pericles: Prince of Tyre', the YMCA promises that this years competition will be stiff and compelling; and a celebration of all the values the Association has proudly upheld since 1882.
Tickets will be available at the Lionel Wendt gate on September 17, 18 and 19, and details of tickets for the Finals (to be held at the Bishop's College Auditorium on October 5 and 6) will be released closer to the date.
Follow @timesonlinelk
comments powered by

Disqus