Mahinda Jai Ho, Jaya hoo-hoo
View(s):

My Dear Jayalalithaa,

I thought I must write to you because you are making news these days, commenting on everything that is Sri Lankan ranging from training for our military to schoolboy football teams touring Tamil Nadu. You seem to want all Sri Lankans to leave your state!

Don't worry, Jayalalithaa, we here Sri Lanka appreciate your concerns and understand why you are saying all this. After all, as Chief Minister of Tamil Nadu it is not an easy task to be in the limelight all the time, so what does it matter even if some innocent pilgrims are attacked every now and then?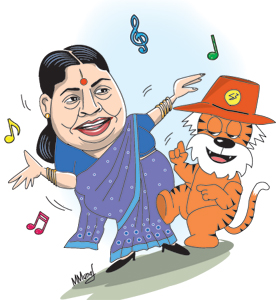 We haven't forgotten that you were once an acclaimed actress. From our experience with our own politicians we know that they are nothing but actors and it is fair to say that you are performing quite dramatically before the cameras in your present role as Chief Minister.
We know that being on the wrong side of sixty and with an expanding waistline, you are no longer the slim beauty who danced in flower gardens many years ago in the company of your predecessor, MGR. So you will always try to make statements that will grab the headlines and we realise that.
Your task is made no easier by that fellow, Karunanidhi who is constantly trying to steal your thunder which is why he recently organised a conference that promoted an 'Eelam' in which even our own misguided Bahu participated.
Therefore you have to do something "better" to appear as if you are saving your community. So, even at the risk of appearing a bit desperate, you ban schoolboys from playing a game of football because, as you say, playing with them causes "humiliation to the people of Tamil Nadu"!
We all know that you are against our military being trained in Tamil Nadu and want all such training stopped. How could we oppose that when we ourselves protested against a similar training exercise in Tamil Nadu some time ago?
That was during Indira Gandhi's and MGR's time when there were plenty of training camps in Tamil Nadu for Tiger cubs and we opposed them then. Pardon me if I am wrong, Jayalalithaa, but I can't quite remember you protesting against those camps at that time.
I wonder what is next, Jayalalithaa? Maybe you should ask all Sri Lankans to be banned from travelling to India? Or call for a suspension of all flights to Colombo, perhaps? Or, how about asking all Sri Lankan students in Indian universities to leave the country immediately?
Better still, you could ask all Indians to stop drinking our tea and wearing clothes that are made in Sri Lanka. And, maybe you should also impose a ban on people in Tamil Nadu watching cricket matches between Indian and Sri Lanka!
Now, if you are short of innovative ideas about how you should oppose Sri Lanka, there is a chap called Wimal over here that you should speak to. He has taken on America and Ban Ki Moon — with great success-and he could provide you with a suggestion or two on how to protest on issues like this!
But it does help you that Manmohan Singh's government is letting you do what you want, doesn't it? They too want to "teach Sri Lanka a lesson" and this is their way of doing that especially because we don't want to follow their dictates in settling our problems, and also because we like the Chinese a lot!
Singh hasn't gone to the extent of air dropping parippu yet like Rajiv Gandhi once did but his government has done everything else to make life difficult for us. So, when you start shouting against Sri Lanka from Tamil Nadu, Jayalalithaa, he must be quite happy too.
Do you know who else you are helping, Jayalalithaa? Now, don't be surprised about this but the other person you are helping by indulging in your anti-Sri Lanka antics is of course Mahinda maama himself!
What you don't realise is that Mahinda maama has found it hard to sail the ship of state smoothly in recent months. Students are protesting about exams, workers are protesting about salaries, motorists are protesting about fuel, and everyone else is protesting about power cuts.
None of his ministers seems to be up to the mark and some of them are as abominable as some of your own colleagues. Besides, he has called for elections in some provinces and he has the difficult job of convincing everyone that he is still in control.
So, just when the going gets tough for him, there you are, trying to save Tamil Nadu from Sri Lankan football teams. And what better opportunity than this for Mahinda maama to step in, save Sri Lanka from you and become a hero all over again?
So, while you bash Sri Lanka, Jayalalithaa, don't forget that Mahinda maama has been an actor too. For the rest of us, tolerating your threats is easy because when we think India, we are reminded of its greatest men, Lord Buddha and Mahatma Gandhi, not Jayalalithaa, Karunanidhi or Manmohan Singh!
Yours truly,
Punchi Putha
PS: While you are at it, Jayalalithaa, could you please do us a favour and ask the Indian cricket team not to travel to Sri Lanka for the T-20 cricket tournament? You will get more than your fair share of publicity and if they heed your call, we have a chance of winning the World Cup, at least this time!
Follow @timesonlinelk
comments powered by

Disqus