Oh! No, Cooray was there, but in the middle
View(s):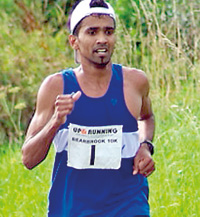 One of the Sunday Times readers in a Letter to the Editor from a person by the name of Neena which reads as "Dear Sir, We were all, very anxious to see our marathon runner, running in the Olympics. We could see a Sri Lanka flag tied somewhere. But the runner was missing. Why?  Can anyone let us know if he/she had seen him running or perhaps shopping?
Sports Editor notes: Yes, we did see him taking part at the marathon. Yet, he was a disappointment and ended up in the 55th position with a timing of 2hours 20mts and 41secs. There were 103 participants taking part in that race. Anuradha Indrajith Cooray was a soldier when he first took part in the in the same event twelve years ago at the 2000 Sydney Olympics and finished in the 30th position and moved to England, where he is now married with two children.
When he showed interest in taking part at the 2012 Olympics after getting inspired by the 2008 Beijing Marathon run which he watched on TV, the Lankan authorities brought him down to Sri Lanka and gave him a discharge from his army ranking.Prior to the event Cooray said that if finished among the first fifteen he would be satisfied. His personal coach Englishman Nicholas Taylor said that Cooray could break the age old Lankan Marathon record established by legendary S.L.B. Rosa. Yet,  at the end of the Marathon he said that taking the weather conditions that prevailed that day in London he was satisfied with his 55th position.
comments powered by

Disqus