Vehicle emission test certificate 'at a price'
By Chris Kamalendran
View(s):
It has been close to four years since the Government commenced the Vehicle Emission Testing Programme, with the objective of improving air quality in the environment. However, a Sunday Times investigation found that guidelines issued by the Ministry of Environment, to the operators of such programmes, are being ignored, and vehicles apparently not meeting with the required standards are being issued with clearance certificates for a price.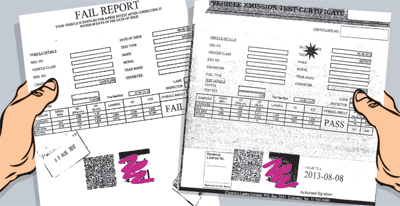 Last week, a van owner took his vehicle to an authorized vehicle emission testing (VET) centre in a suburb of Colombo, only to be told after a preliminary testing, that his vehicle engine would have to be re-tuned and the vehicle brought back to obtain the certificate, which is mandatory to obtain the annual revenue licence issued by the Department of Motor Traffic.
Disappointed, the van owner returned home and contacted a friend known to the operator of the VET centre. Two hours later, he went back with the friend to the VET centre, and after paying an extra amount, he was issued with the clearance certificate, despite his vehicle having apparently failed at first to meet with the required emission standards.
The van owner was certain his vehicle would pass the test as the garage owner to which he takes his vehicle to repair any defect assured the vehicle was in very good condition and felt a computer 'gilmart' had been done.
A senior official of the Department of Motor Traffic said that they regularly monitor all VET centres and carried out raids this year on 12 centres, of which two were found to be violating the set guidelines."We sealed the two centres immediately, but allowed them to re-open some weeks later, after the staff was replaced, as it was at that level the tests were being manipulated," he said.
An official of the Air Resource Management Centre (ARMC) of the Ministry of Environment said, "We have issued strict guidelines to those authorised to operate these centres, and if they violate those standards, they are severely dealt with," he said.
"There are 378 VET centres operating throughout the country," he said.
The vehicle emission test is an annual requirement for all vehicles including motorcycles.However, despite the introduction of the tests, many vehicles emitting dense black smoke, are often seen on the roads, with no spot checks carried out to apprehend the offenders.
Director (Traffic) SSP K. Arsaratnam said that the police assist RMV inspection officials to carry out spot checks, and advise them to get the vehicles repaired. However, penalties are hardly ever imposed.
comments powered by

Disqus