Monitors: Blatant misuse of state resources by UPFA
View(s):

Despite attempts by election officials to curtail the misuse of state property and resources, ruling party politicians continued to use state property, vehicles and public servants for propaganda activities in the run-up to next month's provincial elections in the North Central, Eastern and Sabaragamuwa provinces, polls monitors said.

Job interviews and official meetings summoned by ruling United People's Freedom Alliance politicians continued raising concern among the monitoring groups.They pointed out that the government's decision this week to grant additional benefits to the home guard and civil defence force service also was a violation of the election laws.

The Cabinet on August 8 approved a proposal made by the President, to grant pension benefits to Home Guards and Civil Defence Force personnel. The Cabinet also decided to formulate suitable schemes of recruitment and salary scales for the two services, in consultation with the Treasury and other relevant authorities

Rohana Hettiarachchi, Executive Director of the People's Action Front for Free and Fair Elections (PAFFREL), told the Sunday Times that since the elections were being held in areas where there was a large presence of Home Guards and Civil Defence Force personnel, the move could be seen as an attempt to influence the voters in these areas.

The Health Ministry has released a number of its vehicles, mostly in the Ratnapura district for election activities, poll monitors alleged. On the pretext of carrying out an anti-dengue campaign and holding health clinics, ministry vehicles were being used to put up posters and other propaganda work, they charged.

The violation was rampant in the Ratnapura district, which is represented by Deputy Health Minister Lalith Dissanayake, according to poll monitors. Officials of the Campaign for Free and Fair Elections, a polls monitoring group, said they had raised with the Commissioner of Elections the issue of Health Ministry vehicles being misused.

The Sunday Times learns that in a separate incident in the Kegalle district, a former provincial minister had summoned a meeting of graduate trainees who were recently recruited. Only 150 had turned up though more than 1,000 had been invited for the meeting.

An angry ex-minister had sent out a warning that he would hit back when it came to make them permanent in service. Following this warning, a large number of graduate trainees had turned up at the meeting and offered to work for the ex-minister's polls campaign.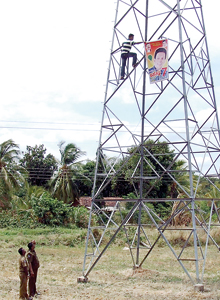 It is also alleged that several former provincial council ministers have failed to return as many as 12 vehicles since the dissolution. However after the Assistant Elections Commissioner for Ratnapura Padmasiri Chandraratne ordered the police to take the vehicles into custody, eight of them were handed over this week.In Anuradhapura, polls monitors and residents said zonal educational officials had organised a series meetings where UPFA candidates were present while school principals were seen canvassing for ruling party politicians.
A PAFFREL official said they had seen a number of vehicles with garage number plates in the Anuradhapura and Polonnaruwa districts and believed they were state vehicles used for political work.Candidates distributed agriculture implements, lamps, water pumps and cooking utensils to farmers and residents in the two districts, residents said.
In Anuradhapura an attempt by the Youth Affairs and Skills Development Ministry to organise youth rallies during the election period was thwarted following a complaint from PAFFREL.
Ban on polls-related publicity from Sep. 5 to 8
In a media release the Elections Department said it has prohibited all broadcasting, telecasting and publishing of any manner of election related programmes from September 5 until September 8.
The release says that programmes of any nature such as advertisements, reports of a political nature and propaganda to promote or prevent the election of any political party, independent group or any candidate are prohibited.Taking photographs, videoing of the inside and the premises of polling stations are strictly prohibited, the release said.
comments powered by

Disqus