An eye-opener
The disposable donor-cornea inserter, an invention by a Singaporean Professor has taken corneal transplantation to a different level, reports Kumudini Hettiarachchi

View(s):
'Corneal transplant' was the topic on the itinerary recently at the Singapore National Eye Centre (SNEC).
So what, MediScene wondered, corneal transplants are nothing new. But in walked SNEC's Medical Director Prof. Donald Tan who has made corneal transplantation a fine art, taking it to a different level, and the image changed dramatically.
Inventing the disposable donor-cornea inserter named after him, the Tan EndoGlide, Prof. Tan who is also Chairman of the Singapore Eye Research Institute (SERI), has put this tiny country on the world map with regard to eye care. (See 'Tooth-in-Eye' surgery)
"We perform complex corneal transplants and artificial cornea surgery," Prof. Tan says matter-of-factly, explaining that they do a lot of corneal research and operations.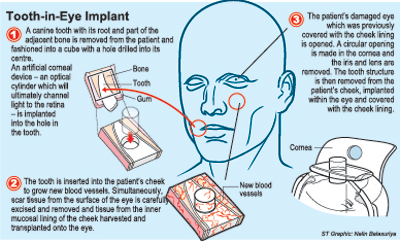 Known as the leading eye centre in the Asia Pacific region, SNEC caters to 275,000 outpatient visits, 20,000 major surgeries and 8,500 laser procedures every year, MediScene learns. Its services deal with cataract and comprehensive ophthalmology, corneal and external eye disease, glaucoma, neuro-ophthalmology, ocular inflammation and immunology, oculoplastic/aesthetic eyeplastic, paediatric ophthalmology and strabismus, refractive surgery and vitreo-retina.
The 16,000 foreign patients who have benefited from this one-stop eye care centre include many a Sri Lankan.
Before getting down to the details of the newer and more advanced techniques of corneal transplant, Prof. Tan deals with why corneas may need to be transplanted.
The cornea is the transparent protective layer of the eye, MediScene learns, through which light rays pass to reach the light-sensitive retina. However, the cornea may become cloudy or opaque due to scarring caused by injuries or infection. A cloudy swelling of the cornea may also occur due to damage or ageing of the innermost (endothelial) layer of corneal cells. If this happens, as this layer cannot regenerate, the answer is a corneal transplant, it is understood.
In Sri Lankans, in addition to ageing, it is mainly fungal infections, that cause corneal issues, it is learnt.
The standard procedure in corneal transplants is Penetrating Keratoplasty (PK) or a full-thickness corneal graft under which a large portion of the cornea is removed and a donor cornea is sutured through microsurgery. Prof. Tan, however, deals with the new vision of Anterior Lamellar Keratoplasty (ALK), Deep Anterior Lamella Keratoplasty (DALK) and Descemet's Stripping Automated Endothelial Keratoplasty (DSAEK).
Leaving the tongue-twisters aside, this eye expert's explanation is clear – ALK is performed to replace the front (anterior) layers of the cornea; DALK to replace most of the front layers including the deeper aspects of the cornea; and DSAEK is the replacement of the diseased back (posterior) layer of the cornea. ALK and DALK are challenging procedures to perform as the surgeon has to preserve the deepest or posterior layer of the cornea (also known as Descemet's layer and endothelial layer), MediScene understands. Picking out one of the most significant advances, Prof. Tan says that DSAEK has created "a paradigm shift in corneal transplantation".
"This new suture-less, keyhole corneal transplant technique through which only the innermost thin layer of the cornea is replaced through a tiny incision at the side of the cornea means much faster visual recovery," he says. The innermost thin layer of the cornea is replaced through a small (4-5mm) incision or cut at the side of the cornea, according to him, leaving behind most of the patient's cornea. It was in 2009 that the surgical device, Tan EndoGlide, which Prof. Tan says is similar to a thumb-drive was introduced for DSAEK.
The donor cornea is split into two layers and only the inner layer, about a 10th of a millimetre thick is transplanted. More than 4,000 corneal transplants using the Tan EndoGlide have been carried out across the world.
Prof. Tan, MediScene learns, has performed two DSAEK cases (live surgery) at the National Eye Hospital in Colombo.Referring in all humility to the Tan EndoGlide, winner of three international awards launched not only in Asia but also in America and Europe in June 2008, he says it was the first such device to be certified by the Food and Drug Authority (FDA) of America.
Invented at SNEC/SERI, the ownership of the Tan EndoGlide is with SingHealth, while it is made and licensed in England. Another procedure that Prof. Tan has ventured into is the complex minimally-invasive, suture-less corneal transplantation technique called Descemet's Membrane Endothelial Keratoplasty (DMEK). Here a delicate sheet of corneal cells on a membrane 1/100 mm thick is transplanted in people whose corneas have turned cloudy due to ageing or disease.
MediScene learns that this extremely difficult surgery of DMEK is currently attempted only by three other centres in America and Europe.
The ultra-thin membrane containing the corneal cells to be transplanted is highly delicate: holding or touching the membrane, which naturally wrinkles and scrolls up into a tight roll, damages the corneal cells, and surgeons may have to spend over an hour trying to unscroll and unwrinkle the membrane and attach it into position onto the inner surface of the patient's own cornea, according to a press release from SNEC.
Prof. Tan and his team have not only carried out this procedure but also come up with a new surgical insertion device, the EndoGlide Ultrathin.
The major advance of DMEK over DSAEK, it is understood, is that patients now have the possibility of attaining 100% vision within a few weeks of surgery, unlike in DSAEK where they often attain only 90-95%. Early studies suggest that while DSAEK surgery has much less risk of rejection than conventional full transplants, DMEK now appears to have even less risk of rejection than DSAEK, it is learnt.
Giving vision with 'Tooth-in- Eye'
He gives them vision through a procedure called 'Tooth-in-Eye' surgery and in Singapore, MediScene meets a patient from Vietnam.
SNEC being the first in the region to perform this complex two-stage 'Tooth-in-Eye' surgery known medically as Osteo- Odonto Keratoprosthesis (OOKP), two Sri Lankans have been among the 40 who have gained sight through this procedure.
While Prof. Tan gently urges the Vietnamese patient to sit and smilingly tells him that he can see well now, he explains to MediScene that an artificial cornea was inserted in his eye a year ago.
"He has perfect vision," says Prof. Tan, explaining that many come for this surgery as their eyes have been destroyed by severe chemical burns, both acid and alkali, severe allergic reaction to medications (Steven-Johnson's Syndrome) or numerous corneal grafts that have failed.
He recalls that one of the Sri Lankans had been injured in an acid attack and undergone many operations but to no avail. 'Tooth-in-Eye' surgery has restored 20/20 vision which is perfect vision.
This unique form of artificial cornea surgery is performed on patients who have severe end-stage corneal blindness, MediScene learns when corneal transplantation or other forms of surgery hold no hope for them.
When we started 'Tooth-in-Eye' surgery back in 2004, the final procedure took over 7˝ hours but now it is only 3˝, says Prof. Tan.
After the procedure, light passes through the plastic cylinder, allowing the patient to see, said Prof. Tan, adding that only a few centres all over the world do it.
Prof. Tan's first patient for 'Tooth-in-Eye' surgery had been a 17-year-old from Thailand who was a victim of Steven Johnson's Syndrome. Now not only has he completed his Advanced Level and is in the first year of university, but whenever Prof. Tan goes to Thailand he puts him on his motorcycle and takes him around.
Although those who have had this surgery have 80% driving vision, Prof. Tan says the view is limited because they are looking through a tube. While a bigger device is needed to overcome that, another disadvantage of going on a mo-bike is that the device could fall out.
Earlier to such patients they would regretfully say, "Sorry you are wasting your time. Please don't come back because there is nothing we can do." But the turning point came with that first surgery.
When we saw what we could do after that first surgery, adds Prof. Tan, "It was one moment in time."
comments powered by

Disqus