Lanka walking tightrope between India and China
By Our Political Editor
= India's high commissioner emphasises protest over sale of land to Chinese aircraft company Malwatte Mahanayake gives stinging message to Govt. - Sangha, Veda, Guru, Govi, Kamkaru on the streets
View(s):
Ebullient and charming Ashok Kantha, India's High Commissioner in Sri Lanka, the accomplished diplomat that he is, found it difficult to hide his feelings.
That he chose to say it at a formal official ceremony that marked the 65th anniversary of India's independence was all the more important. The Indian community – diplomats and their families, Indian security forces personnel assigned to their diplomatic mission, their citizens in Sri Lanka and their own media representatives – were there to hear the nuanced message. It came after Kantha read out the Indian President's message as well as his own to mark the formal event. He said there were issues with the government of Sri Lanka. They were trying to resolve them since both were friendly neighbours.
Some previous envoys too have delivered messages, some outrageously strong and others forcefully eloquent. However, the fact that Kantha chose his country's Independence Day ceremonies at India House to engage in subtle diplomacy was unprecedented and significant. This is notwithstanding efforts by Indian media representatives to ignore the issue. The High Commission's official spokesperson, Birendar Singh Yadav, kept stonewalling efforts by the Sunday Times to obtain an official text of the speech. Unlike most of his friendly, media savvy and co-operative predecessors, Yadav said on four different occasions that "I will send it" but, the speech with either what Kantha said or not, never arrived. He may have been under orders. Yet, the message delivered by Kantha was received loud and clear by the UPFA government leaders. It sent ripples at the highest levels and prompted a serious and analytical discussion.
Behind the veneer of all the good things said, Indo-Sri Lanka relations have hit a new low. Like the proverbial last straw that broke the camel's back, the cause for the latest episode was revealed exclusively in last week's front-page lead story of the Sunday Times. It said that India had lodged a strong protest with Sri Lanka over the allocation of a prime Colombo property to a Chinese company though it was earmarked for India. The report said: "The protests were delivered both in New Delhi and Colombo, an External Affairs Ministry source said yesterday. He was speaking on grounds of anonymity since EAM officials are not allowed to talk to the media."
Through an inadvertent error, the report in our print edition said that the 287 perch property belonged to Whittal Boustead and Company. It is in fact, the property of Shaw Wallace and Hedges Limited, one of the oldest firms in Sri Lanka. Now Shaw Wallace & Hedges PLC, an investment holding company, engages in the property development activities. It develops, manages, and maintains condominiums, commercial buildings, hotels, entertainment complexes, and recreational facilities. The company was founded in 1852. based in Colombo is therefore 162 years old. Shaw Wallace & Hedges PLC is a subsidiary of Lee Hedges and Company Ltd.
The Sunday Times can reveal today that Sri Lanka's High Commissioner Prasad Kariyawasam was summoned to the External Affairs Ministry in New Delhi's South Block. He was told of the Indian government's acute displeasure over the Sri Lankan External Affairs Ministry (EAM) delaying a request for permission to obtain a part of the Shaw Wallace and Hedges PLC land at Kollupitiya. The 287 perch property extends from Galle Road frontage to the edge of the parallel R.A. de Mel Mawatha (Duplication Road). How seriously India has taken up the issue can be gauged from a similar protest lodged at the EAM in Colombo by High Commissioner Kantha. The same sentiments were expressed.
For several weeks, Kantha and his senior officials have been negotiating with S. Richard Vamadevan, Chairman of Shaw Wallace & Hedges PLC. This is to purchase a portion of the property with the Duplication Road frontage to build an Indian Cultural Centre. Negotiations had ended with India agreeing to pay seven million rupees per perch for a part of the land for this purpose. The Indian position is that the deal was concluded. Since foreign diplomatic missions wanting to purchase land are required to obtain permission from the External Affairs Ministry, the High Commission had written to the EAM for clearance. Diplomats say such clearance is only a formality and is routine. India has protested that for more than one and half months, the EAM remained silent. There had been no response from it. In the meantime the Sri Lankan EAM had given permission to CATIC or China National Aero Technology Import and Export Corporation to build its main office in Colombo on this land. The extent is said to be just over 60 perches facing Duplication Road. CATIC is one of the Chinese government owned companies that have provided military related material to Sri Lanka during the campaign against Tiger guerrillas.
The UPFA government argued differently. A high ranking official at the Defence and Urban Development Ministry said the decision to sell part of the Shaw Wallace & Hedges property was made entirely by their private owners. "The government had no role in it at all. Since the land had been procured from the private owner by the Chinese firm, they became the rightful owner. Thus, they obtained official clearance," the official said. However, the explanations appear not to have alleviated Indian apprehensions. Kantha's remarks came as proof that India was still unhappy.
UPFA leaders, no doubt, were busy in the past weeks analysing the diplomatic 'after effects' of the dual Indian protests in New Delhi and Colombo. There was at least one conclusion that came out. It was decided to delay the visit of the troika handling bilateral relations with India. It comprises Economic Development Minister Basil Rajapaksa, Presidential Secretary Lalith Weeratunga and Defence Secretary Gotabaya Rajapaksa. They were scheduled originally to be in New Delhi next month. Sri Lanka High Commissioner Kariyawasam has told the EAM in New Delhi that the visit had to be delayed in the light of elections to the North Central, Sabaragamuwa and Eastern Provincial Councils. The visit was primarily to improve bilateral relations in the light of the upcoming November 1 sessions of the UN Human Rights Council. There, Sri Lanka's human rights record under the Universal Periodic Review (UPR), a process where such records of member countries are scrutinised, will come up. Contrary to wild speculation that the three nations have been personally picked by UN Human Rights High Commissioner Navanethem Pillay, the three UNHRC members were selected after drawing lots. They will follow the sessions on Sri Lanka and formulate a report to the Council. The three countries selected by this UN 'raffle' are India, Spain and Benin. Their report will be a guide when it comes to voting time.
For months before the Indian protest or Kantha's remarks, both New Delhi and Colombo had been veering towards enhanced economic cooperation in several key areas. One of the major strides in this direction came with the visit to Colombo by India's Commerce, Industry and Textiles Minister Anand Sharma. Arriving in Colombo at the same time was a 70-strong business delegation which included some of that country's leading entrepreneurs. As a result of the talks in Colombo, pronouncements were made by both sides that bilateral trade would double to US 10 billion by 2015, investments amounting to over US$ 5 billion would be lined up, two export zones were being established to feed India's supply chains and an increased Indian involvement in the ongoing search for oil and natural gas would come about.
Another factor that appears to have heightened concerns in New Delhi is the comment attributed to President Mahinda Rajapaksa in an interview with the Times of India (ToI). For the first time since India voted for the US-backed resolution at the UN Human Rights Council in March, Rajapaksa broke silence to make some remarks against India. Instead of the Chennai-based The Hindu, which had a few regional printing centres, the TOI, EAM officials believed had wider reach. Thus, it was granted the interview in Colombo over a week ago. This was a means of delivering a strong message to the government in New Delhi. Rajapaksa said had India continued its support to Sri Lanka, there may not have been any resolution at the UN Human Rights Council in March against Sri Lanka. He said he did not fully agree with the Indian government's stated position that it had helped tone down the resolution. Parts of the Q & A give an insight into Rajapaksa's thinking. Here are edited excerpts of relevance:
Q: In May 2011, when your Foreign Minister came to India, a joint statement was issued. It said that a devolution package, building upon the 13th amendment, would create conditions for genuine reconciliation. But the insistence on a PSC (Parliamentary Select Committee) is being seen by India as another flip-flop by your government over the issue.
A: You have given the answer in your question. That is, "building upon the 13th Amendment, would create conditions for genuine reconciliation." That is what we are seeking to achieve through the Parliamentary Select Committee. We are a functioning democracy and Parliament is the supreme legislature.
Q: India's leader of opposition in the lower House, Sushma Swaraj, led a parliamentary delegation to Sri Lanka this year. She said the opposition and government in India, as indeed the people of India, are together over the issue of political settlement. She also expressed concern over the lack of development on the issue of reconciliation. Does your government realise that what is happening in your country is no longer an emotive issue only for a particular state in India?
A: If you say that the people of India, with the many regional and other problems they have, are together over the issue of a political settlement here, I must say that the people of Sri Lanka are also together on the same issue. The observations she made to the media here were most encouraging. We are moving towards reconciliation.
Q: Did it hurt when India voted for the US backed resolution at the UN Human Rights Council and why do you think India did it?
A: All I can say is that we are not a nation and people without feelings. India and Sri Lanka share common cultural and historic values. But it does not alter our friendship and good relations. I trust there is no change in the dynamic of the relations between our two countries. The visit of Indian Ministers and key officials including the National Security Advisor did not show that in any way. Our position was that Sri Lanka needed time and space to resolve issues that have accumulated due to a long drawn conflict that became the hurdle for our development.
Q: While India voted in favour of the resolution, the truth is that Premier Manmohan Singh took interest in ensuring the language of the resolution was diluted making it "non-intrusive." Do you think India is being influenced heavily by the US in conducting its foreign policy?
A: I think it is best to move away from this resolution, which is done and over. What is necessary is to go beyond. Any good intentions and actions are always appreciated. But I must add that if India stood by us and supported Sri Lanka's request for more time and space, who knows, there may not have been a resolution at all. The region looks up to India and India must examine itself whether or not it is doing the right thing in dealing with its neighbours…. what they are doing is the best thing or not.
Q: There is a concern within the Indian establishment that Colombo, whose growing proximity to China is no secret, may now decide to have what it believes is a more realist policy orientation rather than non-aligned.
A: I think it is necessary to state very clearly that Sri Lanka remains fully committed to being a non-aligned state. Non-alignment is a policy that we shall follow, even in the absence of the old power blocs, and also taking the new geo-political realities into consideration. We recognize that India is a land of considerable importance to Sri Lanka. But I think the many fears that the Indian establishment may be having, as you state, about Sri Lanka's growing relations with China are unfounded. Yes, there is increased Chinese investment in Sri Lanka. These are all commercial transactions. We need to catch up with our lost development opportunities of a three decade period and we need to explore funding sources that make low cost funds available to us.
Q: What is your response to concerns in India about your allowing other countries to explore oil and gas in the region? China already has many oil survey ships operating in the region.
A: Our energy requirements keep increasing and to find oil within our own ocean region will be a great boon. I see no reasons whatever for concern by India at our allowing other countries to explore for oil in this region. The company that is doing the initial work now is one that has a large presence in India, too. One must not forget that we did make the first offer of oil exploration sites in the Mannar Basin to India. So what is the need for any concern?
There is little doubt that concerns over China in New Delhi would further exacerbate when that nation's Minister of National Defence, General Liang Guanglie, arrives in Colombo on August 27 together with a top level delegation. This is the first time that such a high-level dignitary of the Chinese defence establishment is visiting Sri Lanka. From the inception of the separatist war with Tiger guerrillas, China has been the main source for military equipment to Sri Lanka until the guerrillas were defeated in May 2009. General Liang was Chief of General Staff (the Commander equivalent) of the People's Liberation Army for five years since 2002.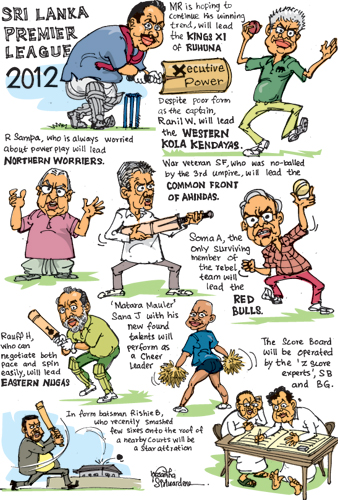 He also serves as a State Councillor and is a member of Central Military Commission. He is scheduled to call on President Rajapaksa, meet Economic Development Minister Basil Rajapaksa and hold talks, among others, with Defence Secretary Gotabaya Rajapaksa. Closer military ties between Sri Lanka and China, according to Defence Ministry sources, are a subject for discussion. This week, the External Affairs Ministry in Colombo frowned on the Sri Lanka Embassy in Washington over a media statement which hinted that Washington and Colombo were moving towards a closer defence relationship.
Ambassador Jaliya Wickremesuriya was cautioned to be careful when issuing media statements which have become the main tool for the conduct of Sri Lanka's foreign policy in Washington. This is what a statement, prepared this time by Embassy staffers representing a military arm in Colombo, said:
"Washington, Aug 13, 2012: Mr. Vikram Singh, the new U.S. Deputy Assistant Secretary of Defense for South and Southeast Asia paid a courtesy call on His Excellency Mr. Jaliya Wickramasuriya, Sri Lanka's Ambassador to the United States on Monday (Aug 13). They had an earnest discussion at the Embassy reflecting on the longstanding defense ties the two countries had for the last six decades.
Ambassador Wickramasuriya and Deputy Assistant Secretary Singh concurred that relations between two countries have deepened and grown across a broad range of areas including in the sphere of defence co-operation over the years. It was agreed that the time is opportune to build U.S.-Sri Lanka defense relations on a stronger footing…………"
Reports from Washington said that Singh's visit was only a "courtesy call", but blown out of proportion by the embassy's highly-paid public relations consultants who are under immense pressure to show results in that capital.
An article in the Financial Times this week commenting on the ten nation ASEAN regional grouping speaks of China's expanding role in the region. Here are excerpts from the account:
"……..Some Chinese scholars believe Beijing has already started watering down its traditional non-alignment dogma. The country distinguishes between "strategic relationships" – a title it is happy to attach to any ties that the other side wants to give more weight to – and "special relationships". China has long pursued a small number of special relationships, including a friendship treaty with North Korea, close ties with Pakistan that include anti-terrorism and military co-operation, and a strong partnership with Cambodia.
"China has also cultivated friends such as Iran and Sudan, but Chinese foreign policy experts say these relationships are mainly driven by economic interests such as securing resources and could never become part of a Chinese alliance system. In contrast, Beijing is experimenting with broadening and strengthening its ties in Asia into relationships that could become building blocs for an alliance. Analysts point to China's role as a big aid donor and investor in Cambodia and Phnom Penh's increasing co-operation with China……………….
"But many Chinese foreign policy experts say such experiments fall far short of what is needed……..Yan Xuetong, dean of the Institute of Modern International Relations at Tsinghua University who has been one of the fiercest critics of non-alignment, says Beijing must completely abandon the dogma and replace it with a web of military alliances reaching from North Korea all the way down to Sri Lanka.
"We live in an international order dominated by the US' military alliances," he said. "China is not offering its neighbours security guarantees, so as China is rising, fears are emerging among them as to what our intentions might be." Some Chinese scholars believe the country has the building blocs in place for an extensive alliance system of its own. The Shanghai Co-operation Organisation, a body co-founded by Beijing which includes Russia as well as several central Asian states, could be part of it in addition to North Korea, Myanmar, Cambodia, Pakistan, Bangladesh and Sri Lanka……"
The recent developments not only show a virtual 'ground zero level' relationship now between Colombo and New Delhi. Whilst there is no gainsaying that such a disturbing trend is not in the best interests of Sri Lanka, the UPFA government has become the biggest beneficiary of Chinese assistance since independence 64 years ago. Whether the Government could continue to hold the scale evenly and maintain good relations with New Delhi and Beijing or allow Colombo to be the diplomatic battleground remains in its hands. It is certainly no easy task with the Ministry of External Affairs literally non-operational barring for the media statements from Minister G.L. Peiris.
Barely two months after he obtained approval to establish diplomatic relations with 15 African countries, Peiris this week recommended to the cabinet that diplomatic relations be established with 13 Latin American and Caribbean countries –Guatemala, Suriname, Belize, Honduras, Nicaragua, Antigua & Barbuda, Barbados, Dominica, Grenada, Haiti, St Kitts and Nevis, St. Lucia and St. Vincent and the Grenadines. In a memorandum to his ministerial colleagues, which was approved, Peiris said "Latin America is home to over 600 million people with a growing middle class. Most of the countries in the region now have reliable political and economic frameworks that include democracy and conducive macroeconomic, monetary and fiscal policies. Moreover, Latin America has 15 per cent of the world's oil reserves and large stocks of minerals, a quarter of its arable land and a third of its fresh water. All these vast resources of strategic and vital importance offer the opportunity for the Latin American region to develop its potential to become a significant player globally as a producer of food, energy and water. With most Latin American countries now pursuing open economic policies, they have the potential to emerge as important markets for Sri Lankan products in the future. It is further noted that major buyers of Sri Lankan cinnamon is in the Americas region and there is potential to expand and diversify our spice exports to the region.
"Out of the 33 countries in Latin America, which are members of the United Nations, Sri Lanka has so far established diplomatic relations with 20 countries. However, Sri Lanka has established only two resident missions in Cuba and Brazil to facilitate the interests in this region. Expanding relations with Latin America would be of much importance to Sri Lanka to sustain its efforts in working collaboratively at various international fora, particularly at the UN, Non-Aligned Movement, G-77 and the Commonwealth. In terms of our foreign policy perspective, there are no controversial political issues between Sri Lanka and the Latin American countries. Moreover, in a multilateral context their support would be significant."
Peiris wants to win and influence new friends. This week, the red carpet was laid for King Miswati III of Swaziland who was on a state visit to Sri Lanka. The Kingdom of Swaziland is landlocked. It is bordered by South Africa on three sides except the east where it borders Mozambique. Under a state of emergency since 1973, Swaziland is ruled by King or Ngwenyama (Lion), currently Mswati III. By tradition, the king reigns along with his mother or a ritual substitute, Nlovukari (She Elephant). The King is viewed as the administrative head of state and the mother as a spiritual and national head of state. In the later years, the role of the mother has become symbolic. The king appoints the Prime Minister as well as a smaller number of representatives for both chambers of Libandla (Parliament). The government laid out the red carpet, ceremonial gun salutes and banquets for the visiting King and his Queen. As Mswati III left Colombo, it was announced on Friday that Seychelles President James Alix Michel will visit Sri Lanka next week.
With so many new friends to look after, a diplomatic reach only the rich countries could afford, particularly with the little or no infrastructure at the EAM, it will be a daunting task for the UPFA government. More so, when it has to do plenty of tightrope walking between New Delhi and Beijing to ensure there is no fallout in the battleground in Colombo.
Those are not the only woes for the UPFA government. On the domestic front, the Maha Nayake (High Priest) of the Malwatte Chapter, Most Venerable Thibbotuwawe Siddharatha Sri Sumangala delivered a politically succinct message to the Government. He declared that the Pancha Maha Balavegaya or the Five Great Forces were now on the streets. Those forces – Sangha (Buddhist Clergy), Weda (Physicians), Guru (Teachers), Govi (Farmers) and Kamkaru (Workers) – was the slogan on which the founding father of the Sri Lanka Freedom Party (SLFP), (the main partner in the ruling UPFA), swept to power with his Mahajana Eksath Peramuna (MEP) at the 1956 parliamentary elections. In 1951, the late S.W.R.D. Bandaranaike resigned from the United National Party (UNP) and formed the SLFP. However, at the 1956 elections he contested under the MEP banner and their campaign slogan was the getting together of the 'Five Great Forces' to defeat the then powerful UNP government. The Most Ven. Sumangala Thera's assertions came when a delegation from the Federation of University Teachers Associations (FUTA) met him. "Though it is easy to fool the people in the villages, it is not easy to do the same for university lecturers," the prelate told them – and through the media, the government.
The Malwatte Maha Nayaka Thera's assertions showed that he closely followed political events in the country. A sample of the five forces and what they were doing:
Sangha (Buddhist Clergy) – Among other events, Ven. Maduluwawe Sobhita, Chief Incumbent of the Sri Naga Vihare, Kotte, convenor of the National Movement for Social Justice launched a campaign on Wednesday to change the presidential system. This is through Constitutional amendments. This was one of ten points announced to civil society leaders who packed the Public Library in Colombo. Among other issues the movement will campaign for is eradicating corruption, bringing about transparency in governance and empowering the people.
Weda (Physicians) – Doctors staged a lightning protest on Friday over the hurling of a grenade at a colleague's house in Dehiwala. The doctor in question is also a member of the Sri Lanka Medical Council. They are also opposed to private medical teaching hospitals churning out questionable doctors.
Guru (Teachers) – University teachers have been on strike for more than two months seeking increased salaries.
Govi (Farmers) – Paddy farmers and those cultivating other crops, both in the north and the south, have been demanding compensations due to the prolonged drought. It had destroyed vast extents of their crops threatening their livelihood.
Kamkaru (Workers) – It was only late this week that Ceylon Electricity Board (CEB) workers staged a strike demanding increase in wages. They called it off after the government said it would appoint a committee to look into the matter.
In his victory day speech in June 2009, just after the military defeat of Tiger guerrillas, President Rajapaksa declared he wanted to add another to the 'Five Great Forces'. It was Ranaviru (or troops) because they had won the war against Tiger guerrillas. With his onetime Army Commander, former General Sarath Fonseka, who led troops to military victory coming forward to contest the presidential elections in 2010, the addition to the five slogans, was not hotly pursued.
Some of the highlights of the remarks by Most Ven Thibbotuwawe Siddharatha Sri Sumangala Thera: "Its not only one section of society which has deteriorated. All walks of life have been affected. Today the focus is on developing the tourist industry and making money. We are also watching to determine if these problems will be resolved today or tomorrow. It will be good if problems faced by the university academics are discussed with the President. If the President can hold discussions with fishermen to solve their problems, then he can also hold discussions with university academics as well. No results will be yielded by talking to other state officials'.
"It is a difficult thing to discuss issues with the government and expect results. What do the students gain from the "leadership training programme?" (Note: Such programmes are conducted by the military).By forcing the university academics onto the streets, we are trying to do something that has never been done in any other part of the world."
With the Ranaviru (troops), President Rajapaksa's sixth addition to the five forces on his side, the question is whether his ministers have ignored the other five strong pillars founded by the late party leader S.W.R.D. Bandaranaike. That would in effect mean distancing the government from its grassroots level power base.
CEB says Treasury must meet subsidy cost
The Ministry of Power and Energy believes there are three reasons why the Ceylon Electricity Board (CEB) is facing an "acute financial crisis" as exclusively revealed in these pages last week.
They are (1) Two consecutive failures of monsoons (2) technical failures of less expensive Lakvijaya, the Chinese built Norochcolai coal power plant, and (3) non-implementation of cost reflective tariff and providing subsidy to the consumers.
Last week, the Sunday Times (political commentary) exclusively revealed that Power and Energy Minister Patali Champika Ranawaka had urged the cabinet to authorise the Governor of the Central Bank to increase the limit given to the CEB as a single borrower to Rs 74.2 billion. This is in view of a "severe financial crisis."
The Ministry's Media Secretary, Dhanushka Ramanayake, who was throwing more light on the CEB's serious financial crisis, said two consecutive failures of the monsoon in 2011 had a "tremendous impact" on the financial situation of the CEB. Hydro power contribution, he said, was only 31 per cent of total generation. However, in 2010 the hydropower contribution was 47 per cent.
Ramanayake adds: "For 2011, "the National Budget" revealed a tariff increase of 8% to cover price increase of Heavy Fuel to run oil fired power plants from Rs. 26 to Rs. 40. However the Government allowed only a tariff increase of 0.45% and as a result a total subsidy of Rs. 24,054 million was given to the electricity consumers during the year. Accordingly a tariff subsidy of Rs. 17,150 million was given to the low-end domestic sector consumers and further subsidies of Rs. 6,498 million and 406 million were given to Industrial and Religious sector consumers respectively. The loss due to technical failures of power plants was Rs. 14,474. million. The cost of the breakdown of the Lakvijaya coal power plant (CPP) was Rs. 12,288 million and non-operation of Kelanitissa Combined Cycle (Steam Turbine) was Rs. 5,186 million.
In February 2012, Ramanayake said, the fuel prices were increased by about 51% and to meet this additional expenditure, the CEB was given authority to introduce the Fuel Adjustment Charge (FAC) with the concurrence of Public Utilities Commission of Sri Lanka (PUCSL). He said this resulted in a total revenue increase of only by 18%. The third consecutive failure of monsoon brought a tremendous impact to the situation. He added that Hydropower contribution in 2012 will be limited to only 20% of the total generation. To avoid the power cuts, the CEB owned power plant GT 7 & the IPP (Independent Power Producers) power plant ACE Matara which was due to retire was put in to operation by CEB. This resulted in an additional cost of thermal power generation.
The high generation cost, Ramanayake said, is the main reason for the financial crisis of the CEB. Three monsoons failed repetitively in 2011 and 2012. Further the fuel price increased in February 2012 by 51 %. The CEB revenue increased only by 18 %, he pointed out.
It is important to note that the Government policy, Ramanayake concludes, "is to provide electricity at a subsidised price, thus the difference has to be borne by the Treasury as depicted by the Electricity Act."
comments powered by

Disqus