Despite the detections the exodus continues against all odds
Damith Wickramasekara and Harish Murali reporting from Wennappuwa and Beruwala
Is it worth it? The boatpeople seem to think so as they wager all to embark on a death-defying voyage Down Under
View(s):
Fifty-five-year-old dairy farmer Mohan Thurairajah's dream was to seek greener pastures Down Under.
Thurairajah was among the 53 people who took off on July 8 in a trawler from Pottuvil on the eastern coast. They were ferried across in four fishing boats to the main trawler waiting offshore.
Forty-eight-hours later, their trawler was caught in a storm, and later rescued by the Navy and brought ashore.
"The trawler failed to withstand the battering by the rough seas and the water coolant pipe to the engine started leaking. It was a harrowing experience," he told the Sunday Times this week.
"Initially, when the trawler skipper noticed that the Navy had spotted us, we were told to hide inside a large, 7'x 7' freezer in the basement to escape detection. We were all cramped inside, and one of the passengers became seasick and vomited," he recounted.
However, an hour later, they were picked up by the Navy and later handed over to the police.This is the latest of the continuing saga of illegal migrants trying to seek asylum in Australia.Many of them are driven to take this extremely hazardous ride to Australia for economic reasons.
But, in the case of Thurairajah, it was not only economic reasons. His daughter, who is domiciled in Australia, also lured him into getting into Christmas Island at any cost.
"I met a woman involved in human trafficking. She demanded Rs. 800,000 in three instalments, with the first instalment of Rs. 200,000 to be paid before leaving the country, the second instalment of Rs. 300,000 to be paid once they cross international waters, and the balance Rs. 300,000 to be paid once they reach Christmas Island," said Thurairajah.
He mortgaged his property to raise the required Rs. 800,000, which seemed to be worth the risks, as the woman assured him of a safe voyage. She also added that two naval boats would accompany them till they reached international waters.
Thurairajah had assured his money lender that he would pay Rs 40,000 every month.
Naval officials rendered first-aid and then handed them over to the Hambantota police who in turn handed them over to the Criminal Investigation Department (CID). They were then produced in courts and released on bail.
Earlier this week, police detected 41 more persons waiting to leave for Australia, at a guest house in Wennappuwa.
Inspector S.G.M.K. Gunasena, Officer-in-Charge of the Wennappuwa Police Crimes Division, told the Sunday Times that the group had taken shelter in the guest house after their boat had capsized several hours earlier."We found them huddled in three rooms in wet clothes," he said.
He said the boat probably capsized close to shore, and hence, they were able to swim ashore."We understand that they were being kept in the guest house awaiting an opportunity to board another vessel to continue their journey," he added.
The guest house owner, along with the 41 persons, a majority of whom from Vavuniya, Batticaloa, Kilinochchi and Mullaitivu, were arrested and handed over to the CID for further investigations.
Sudesh Suminda, the guest house owner's brother, claimed that his brother was not aware that his 'guests' were illicit migrants. "This is a guest house for tourists. My brother was at a party on the previous day, when one of his friends said he wanted a couple of rooms on rent urgently. My brother gave him the keys. His friend had brought the persons and locked them in the rooms and taken the keys away," he claimed.
He said that, only after the police raid that they were made aware that the 'guests' were illicit migrants.
E.S. Dayaratne, Assistant Superintendent of Police in charge of Wennappuwa, said many of the guest houses in the area were being made use of to harbour would-be illegal migrants, before boarding their vessels.
However, not only civilians have been taking illegal rides out of the country. Two policemen too, from the area were among those who have reportedly made it to Australia.
Two policemen from the Chilaw police station, assigned to gather intelligence on illegal migrants to Australia, suddenly went missing, and their family members claimed likewise. But information from Australia says they have already reached Australia.
ASP Dayaratna told the Sunday Times that the two policemen- Dias (41393) and Upul (41415), have been interdicted, after they were reported missing. "We suspect they have travelled illegally. Investigations are under way," he added.
As the police and Navy stepped up surveillance, the would-be illegal migrants appeared to be shifting their departure areas too.
Another batch of 25 illegal migrants including six women, were detected hiding in a fishing hut off Beruwala, on Wednesday, reportedly waiting for a boat.Beruwala Police Crimes Division OIC, M.E. Gunatillake told the Sunday Times that, on receiving information from fishermen having sighted persons being loaded onto a boat, "We went to the location and found more people ashore waiting with their bags," he said. He said that the majority of them were from Kilinochchi, Kokkilai, Jaffna and Vavuniya, while two were from Moratuwa and Mt. Lavinia.
There also was a one-year-old infant and a pregnant woman among them."This is the first time we have arrested illegal migrants to Australia from this location", he added.Meanwhile, 67 others were arrested by the Navy in a trawler off Kosgoda on the same day.
"A Dvora craft operating in the area had spotted a boat, and on checking the vessel, had made the detection," Navy spokesman Commander Kosala Warnakulasuriya said.During this year, the Navy and police have detected 20 trawlers and arrested more than 1,100 would-be illegal migrants to Australia.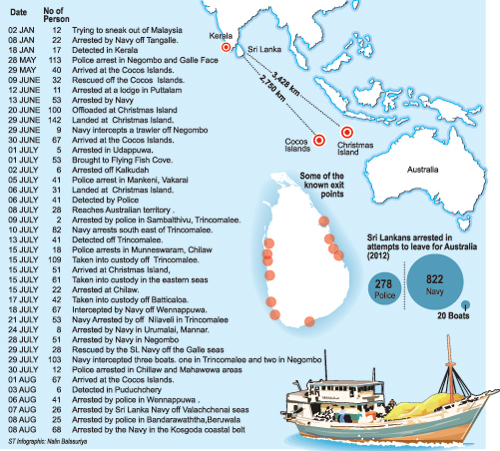 Immigration laws to be tightened
Sri Lanka is to tighten immigration laws to stop people trying to leave the country illegally by boat.
Immigration Controller Chulananda Perera said both those who organise illegal boat trips and those who undertake such trips would face severe penalties under new amendments to the Immigration Act.
Since the start of this year, more than 1,000 persons have been detained while trying to leave by boat for Australia while around 1,500 have left the country undetected.
comments powered by

Disqus