Memories are made of square grids
By Tharooshie Mahahewage and Keshara Hallock
In her first solo exhibition here, Pakistan artist, Noorjehan Bilgrami pays homage to Sri Lanka through paintings
View(s):
"The work has to communicate and speak for itself, and the quotation by Balthus in your Gallery sums it up, 'Painting is a language which cannot be replaced by another language.
I don't know what to say about what I paint really." Noorjehan Bilgrami is a Pakistani artist, textile designer, researcher and filmmaker whose work is being exhibited at the Paradise Road Galleries until August 19. She has travelled extensively and lectured at universities and museums in the United States, Scandinavia and Japan, written numerous articles for international journals and exhibited her works at major galleries in Pakistan.
Her interest in traditional crafts led to the establishment of KOEL, a workshop that pioneered the revival of block printed fabrics natural dyes and handloom weaving in Pakistan.
Her first solo exhibition in Sri Lanka pays homage to this country which Noorjehan feels particularly connected to having visited it seven times before. She says she is greatly inspired by the island- "I love the landscape, the people, I love the greenery and the weather and the fact that the people are connected to the land. Sri Lankans are always smiling, even the children of the remotest village.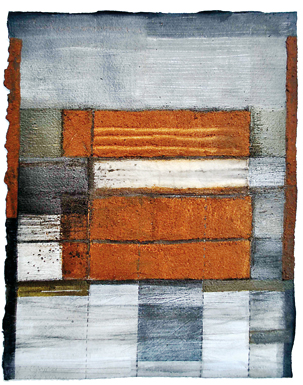 "The collection revolves around where we are, what our country is like, the difficulties and the challenges and yet there's always light and hope. I have used three main ingredients in this art collection; the first being indigo which is extracted from a natural growing plant found on river banks, the soil of Jaffna which symbolises earth, not only the troubles of this land, but of those who are affected by war all over the world. The third ingredient is jaggery bowls which is a tribute to the intricate, fine, repetitive work and meditative quality of the craftspeople. "
Most of her work includes Islamic patterns, square grids. "I tend to highlight memories I hold from sightseeing in Sri Lanka, the artistic heritage, culture, landscape and the history of Sri Lanka through my work," she says.
comments powered by

Disqus