Talk at the Cafe Spectator
View(s):

Envoy in Malaysia recalled despite his plea and protest

If the troops fought Tiger guerrillas during the final stages of the separatist war with modernised weapons, he waged his own battle in the media. Hosannas were sung for many in the UPFA government in his commentaries.

The most prominent among those who received plaudits every week was External Affairs Minister G.L. Peiris. He heaped paeans of praise on Peiris on his assumption of office and shared in the glory of "the dawn of a new era in the conduct of Sri Lanka's foreign policy". His battle in the media paid off with a diplomatic posting in Malaysia.

Whilst waiting for that dawn to come, Kalyananda Godage has become a casualty thanks to his erstwhile hero, Peiris himself. His undoing came when he raised some questions. This was when 59 Sri Lankan envoys, ambassadors, high commissioners and consuls gathered at a conference hall in the Army cantonment in Diyatalawa for a residential workshop last month.

This is how the Sunday Times political commentary of July 15 exclusively reported the matter. "Kalyananda Godage, Sri Lanka's High Commissioner in Malaysia was bold enough to point out what most envoys say was an inherent weakness in the External Affairs Ministry (EAM). He noted that there were some questions from the Tamil Diaspora over Northern Provincial Council elections, lack of progress at all party meetings and similar matters. He found it difficult to provide answers sometimes since the EAM had not provided clear guidelines. Godage's dilemma is understandable. He did not wish to say anything that would run counter to the thinking of the Government. An embarrassed External Affairs Minister G.L. Peiris was quick to parry the issue. "This is not what I expect an envoy to say" he interjected and added "you should be able to defend the Government. You should know what to say……"

Peiris was so infuriated by the Godage remarks that he made reference to it on three different occasions at the Diyatalawa workshop. Despite that, the issue appears not to have ended there. Government sources said Peiris raised issue with President Mahinda Rajapaksa. The President was told that Godage would go to the media with his story. That infuriated Rajapaksa then. The result was the immediate recall of Godage. The Sri Lankan envoy also confirmed this in his somewhat apologetic letter to Peiris. He said:

"Dear Minister,
"I cannot quite believe it that you of all people had me 'Recalled'. Trust you would recall what I wrote about you when you took over from Rohitha Bogollagama, yes I was delighted because I expected you to bring a professional approach to Diplomacy and to the management of our foreign relations. I came out of retirement to serve as I felt that I could yet be of service to our country.

"I agreed to come to Malaysia as I was aware of the problem here and as I speak some Tamil I felt that I could be productive. There are three Tamil groups here who are hostile towards us but I engage in a dialogue with them with the hope of informing them of the present situation and winning them over or at least softening their stance towards us. At Diyatalawa I asked that question from you as to how I should respond to them — as these people are educated professionals, some are lawyers some are university teachers, they are quite knowledgeable on the history of our conflict; perhaps I did not frame my question as I should have and you pounced upon it and said 'you should have the answers' -this perhaps was my crime that resulted in the decision to recall me; this, to my mind is both unjust and unfair and certainly not what I ever expected.

I have defended our country through the years of this conflict and I have my published articles to prove it.
"I have, in the past eight months that I have served here done much to develop and strengthen relations between Malaysia and our motherland. As you are aware I was able to also arrange that conversation between HE the President and the Malaysian Prime Minister to seal the agreement for them to abstain on the recent vote in the UNHCR, for which I myself worked hard. A group of hard-line Tamils even threatened the PM Najib that they would vote against him at the forthcoming elections if he did not support the resolution. I have been in contact with all groups of Tamils here, there are two groups who are friendly towards us and are working in the North, I am presently working with them and two other groups' one with Australian connections, to build a hospital and a nurses training school in Batticaloa.

"I have revived the Sri Lanka-Malaysia Joint Commission which had gone into abeyance after 2006, I have revived the relationship with the Malaysian Agricultural Research & Development Institute (MARDI) which has agreed to help us to develop our fruit cultivation on a commercial scale; the Malaysian National Institute of Public Administration (INTAN) has formally agreed to train our personnel.

"I am also pursuing the matter of entering into formal agreements with other government agencies here including MITI (Ministry of International Trade and Industry) and the Malaysian Institute of Diplomacy and Foreign Relations (IDFR). I have been associated in promoting three investments from Malaysia and we sent a delegation of 90 businessmen for the trade exhibition organized by the Export Development Board and in July of this year I was associated in sending a high powered delegation from the Malaysian Chamber of Commerce to Sri Lanka. To another matter which I have no doubt would be of interest to you, we are presently paying Malaysian Ringgit twenty thousand (RM 20, 000) a month as rent for the chancery building; I am presently in negotiations with two banks here to obtain a loan to purchase a suitable building for the chancery and pay back in instalments what we are presently paying as rent, so then we would own the building. The total rent paid for the chancery from the time we rented the building in 2003 to date has been Malaysian Ringgits 2.072 Million or approximately SLRS 68.376 Million.

"In consideration of the work I have done in the past eight months I shall be thankful if you would have this decision withdrawn and permit me to continue to serve you and our government as I have done these past eight months.
"With kind regards,
Yours Sincerely
K. Godage"

Godage's recall comes amidst reports that the Malaysian government has donated one million US dollars to the Malaysian Tamil Forum; an affiliate of the London based Global Tamil Forum. The money is for helping war affected Tamil families including refugees both in Malaysia and in Sri Lanka. In the case of the latter, special emphasis has been laid on war widows and children.

A Government source says the decision to recall will stand despite Godage's appeal. A state run media outlet said Godage had failed to counter LTTE activity and described him, without naming, as one who has passed his prime age. However, the fact remains that he was nevertheless given a posting. The moral of the story – praise can win places but queries can only lead to worries and the loss of a job. Though past his retirement, Godage has learnt it the hard way.

TNA won't take part at Eelam meeting

Tamil National Alliance leader R. Sampanthan received a telephone call from Tamil Nadu's former Chief Minister Muthuvel Karunanidhi, inviting him to the Tamil Eelam Solidarity Oragnisation (TESO) meeting this week.
Sampanthan said that though he was willing to participate, he felt that the event would face a legal issue if it was going to discuss the creation of a separate state of "Eelam" for Tamils in Sri Lanka.

Karunanidhi assured him that no proposal would be moved for a separate state and asked Sampanthan and members of the TNA to participate. However, none of the TNA members will be there. Nava Sama Samaja Party (NSSP) leader, Wickremabahu Karunaratne has finally obtained his visa from the Indian High Commission to attend the conference after an initial delay.

Rajapaksa again addressed as 'Madam, President'

This time, President Mahinda Rajapaksa was at the District Co-ordinating Committee meeting in Moneragala when he heard a Transport Authority official call him "Madam."On the first occasion he kept quiet. On the second too, he was patient. When he was addressed a third time as "Madam President" in Sinhala, he responded.

He asked the official whether he was from Attanagalle.He was alluding to former President Chandrika Bandaranaike Kumaratunga who is from Attanagalle. Just weeks earlier, Higher Education Minister S.B. Dissanayake made the same reference twice. Rajapaksa was to tell him "Aywaa ey kaaley" (that was then).

MR's sons crack marriage jokes at wedding

Several UPFA leaders were gathered at the wedding of Tharanath Basnayake, son of former minister Bandula Basnayake, at Waters Edge, Battaramulla last week.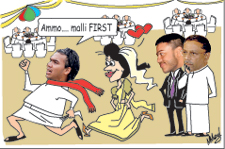 Two of the President's sons, Namal and Yoshitha, were seen chatting with guests. Minister Dinesh Gunawardena who was among them asked Namal when he was going to get married.
"Sir, Eya gena mathak kirima gena bohoma isthuthi. Mang hithan inne mallilla dennama bendata passe eyagena hithanna. (Thank you very much Sir for reminding me. My intention is to wait till my two younger brothers get married)," said Namal.
"Balanna amathithuma ape aiya inney apiwa billata deela eya passe theeranayak ganna. (Mr. Minister, our brother is trying to make scapegoats of us and decide later)," Yoshitha said.
T-20 terror for Indian diplomatic families at Pallekele
The Indian High Commission is to raise issue with the Ministry of Defence over an incident at the Pallekele Stadium during the T-20 cricket match between India and Sri Lanka on Tuesday night. Family members of staff of the mission, including young children, were in the Sri Lanka Cricket President's Pavilion when the match ended with an Indian victory.
Thereafter, for more than four hours, they could not leave the pavilion. Rowdy mobs kept them captive. Even visitors in the adjoining Minister's pavilion began making vulgar gestures forcing one mother to ask her children to close their eyes. They alleged that even the police on duty withdrew from the area when it occurred. The High Commission is to make available their identity numbers. "If things got out of hand, that would have been a very ugly situation," said a High Commission official.
Later an official of SLC intervened and obtained the help of a police party to have them escorted to their vehicles. Bad sportsmanship, increasingly rampant at cricket matches in India, seems to have invaded Sri Lanka now.
Unless the Police act tough on these rowdies, who can't stomach defeat, the purpose for which these matches are played would be lost altogether.
Surprise lunch for Indian ministerial team at Temple Trees
India's ebullient Minister of Commerce, Industry and Textiles led a delegation of more than 70 entrepreneurs to Colombo last week.  One of the engagements slotted in for the delegation, made up of some giants in India's commerce and trade sector, was to meet their local counterparts.
The joint interaction was to take place over a luncheon event at a five-star hotel.Minister Anand Sharma was to pay a scheduled call on President Mahinda Rajapaksa and join in the luncheon. However, Rajapaksa who is a passionate believer in Sri Lankan hospitality wanted Sharma to join him for lunch. The charm was too much for the Indian Minister to resist. He politely explained that his entourage was waiting at the hotel for the luncheon meeting with the Sri Lankan counterparts. "Please ask them also to join us," exhorted Rajapaksa.
The message went immediately to the hotel. The majority of the Indian entrepreneurs hurried to 'Temple Trees' to meet Rajapaksa. According to President's spokesperson Bandula Jayasekera, some 15 of them sat down for lunch too. It was past 3.30 p.m. when they returned to the hotel. The local side had already dug into the buffet spread, though.
Former MP-turned-diplomat in Wimbledon 'sex' court
A former MP from the Gampaha District and one-time Sri Lanka envoy in an overseas diplomatic mission has been arraigned before a British Court for sexual assault. The man, said to be wealthy, had gone to a London gymnasium and sought a massage in one of its booths. The masseuse has complained to the Police that he fondled her and made sexual advances.
The case came up before the Wimbledon Magistrate's Court last month. The former Sri Lankan MP was released on Sterling Pounds 5,000 (more than Rs. 1.3 million) bail after he denied the charges against him. Attorneys from the law firm G.T. Stewart are appearing for him and the trial has been fixed for October 29. Records showed that the man and his wife held a multiple entry visa to Britain.
The court has granted permission for him to visit Sri Lanka in the meanwhile. If found guilty, the one-time politico-cum-diplomat, faces a jail term of more than three years and a fine, or both.
comments powered by

Disqus