Crisis of confidence
View(s):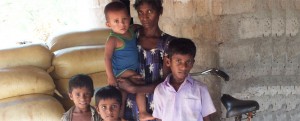 Errors in the combined and applied maths papers; errors in other subjects at the ongoing GCE A level examination! Haven't we heard this before?
The Z- score fiasco continues to be an issue being canvassed in courts as student after student claims discrimination. University teachers are up in arms over wage issues and threatening to disrupt 'A' level paper marking. Without a doubt, education in Sri  Lanka is in a 'right royal' mess. The President and his band of merry men (ministers, government politicians, officials and catchers-on) shout from the rooftops that these crises are caused by 'anti-government' elements or the media. Didn't we hear this phrase used in a stock market presentation recently to accuse sections of the media and other pro-governance activists of killing the market?
However scoring political points and politicizing an issue is not going to solve the problem. Slowly but surely the authorities (Commissioner of Examinations) are acknowledging the flaws and trying to make amends. Education (pages and pages can be written on this sector and challenges with evidence provided to counter any rebuttal or denial from the government of what they say claim are just allegations, innuendo and mischief making) is just one of the crises this country is facing.
Militarisation
Take the militarisation of the economy. The military is visible everywhere. Certainly the military needs to be utilized in productive areas but what is seen is somewhat akin to a military state like Cuba or North Korea, etc with a dose of democracy as the icing on the cake. There have been reports of a company being formed under the Defence Ministry to handle commercial construction contracts. Given the discipline, military precision to completing work on time, incorruptible quality and reduced profit margins, such a company would be a sure winner when competing against other giants in the private sector. What if such a company also bids for contracts abroad based on its commercial success? That would be just like the Chinese defence and state companies investing in Sri Lanka's economy like CATIC. One would argue that these are hypothetical issues, rhetoric and scenarios that lack evidence. In an administration where 'might is right' and 'anything is possible' in which the likes of Mervyn Silva are above the law even after committing a criminal offence in tying a public officer to a tree, among several other offences, and politicians like Duminda Silva being given state patronage after an alleged killing, one doesn't need scenarios, hypothesis or possibilities to arrive at a conclusion that the administration will stop at nothing to get what it wants. Where is the governance and accountability in the public service? Responsible and experienced officers including divisional secretaries (government agents) or diplomats are removed overnight because they said or did what was right, in line with their conscience and more-so in accordance with public sector rules and guidelines.
PBJ – Only survivor
The only 'high profile' survivor who is unafraid to state his case (whether it is right or wrong) is Treasury Secretary P.B. Jayasundera who have worked under several governments – so much so that he has become so indispensable that even a Supreme Court ruling couldn't oust him from that position! Clearly Dr Jayasundera is more powerful than any government minister or politician. The coterie of government spokespersons who regularly meet the media and are confronted with questions on governance and accountability have become masters at the art of Goebbels, and the public are expected to gobble down their pronouncements. Recent happenings at the Ceylon Petroleum Corporation (CPC) where for the third time, contaminated diesel has ruined many vehicles, raise many questions. Statements coming from the Minister on this and the plethora of tainted tenders are contradictory and replete with doubts. When a blacklisted company was reinstated again by a former CPC chairman allegedly due to corrupt reasons, the Minister publicly expressed his unhappiness. But the most that was done was call for an explanation. This week he was quoted as saying he is unaware of the identity of the members of a tender committee!
Lanka IOC
Now why isn't Lanka IOC, the only other fuel supplier, facing any issues? There hasn't been any allegation of contamination of fuel during its tenure since the government sold a sizable number of CPC fuel stations to the private sector. In a demand and supply situation where price, quality and service is what the consumer is looking for, LIOC is clearly dishing out a superior product and gradually, more motorists are filling up at LIOC sheds assured that the quality of the fuel is of a high standard. Another crisis faced by the public is power supply. In many areas – before the current power crisis – there have been power cuts often during weekends, from 9 am to 5 pm on Saturday or during the same period on Sunday. When consumers call the CEB complaints number, the response is that the public have been told. How? "Loud hailers fitted to vans a day before the power cut which drive through these areas announcing the power cut," was the response to one caller.  Are people at home all the time to hear these announcements? Apparently some of the 'scheduled' power cuts are announced in advertisements in the state-owned print media.
Power cuts
Frustrated consumers are now scanning the newspapers for such ads and advance notices of power disruptions like the one some days back which spoke of disruptions in many areas over the next couple of weeks. Residents are also not sure whether these disruptions are due to 'maintenance' issues as reported or subtle ways of enforcing power cuts, due to the drought which has drastically cut hydro power supply, and are very cynical; such is the crisis of confidence in the government. Education by far is the biggest issue faced by the government. The Friday Forum, a group of intellectuals drawn from various disciplines which are raising issues of governance and accountability, has discussed the crisis in the education sector in its latest statement (see below). "The recent trade union action by university academics and other staff, and the current critique of educational policies and interventions by students, parents, teachers and members of the public are a response to multiple crises in the education sector. These problems have not emerged overnight. They reflect a progressive decline including many decades of mismanagement and politicized and ad hoc decision making," the group said last week.
SB and Bandula should quit
What Sri Lanka's rulers have failed to realise or just don't care is that the authorities involved in all levels of education and examinations and that includes the two Ministers – S.B. Dissanayake and Bandula Gunawardene – are slowly jeoparding the future of millions of children, their hopes and aspirations. They should take responsibility and quit; displaying statesmanship (too much to ask?) before causing further damage and playing with the lives and future of children. The examination errors are happening with increasing frequency over the years and with every passing year more and more parents and children are losing confidence in a system (education) that was once hailed as a model of Asia (many decades ago).
Question papers are prepared by a panel of university lecturers. Earlier question papers were given to a group of teachers to provide answers (like sitting in an examination) within a stipulated time and this was done to ascertain whether a student would be able to tackle the questions. In some cases, the teachers themselves were unable to answer the questions. Through this scheme, the authorities were able to simplify the question if there was some difficulty in giving an answer within the required time. This also helped detect any errors in the question paper as well. That practice was discontinued following accusations of leakage of question papers before the exam. Now, questions are obtained from a question bank under the supervision of a Professor and there is no cross-checking to ascertain whether there are issues with the questions.
Pressure to pass
The pressure on students to pass is such that parents are even reluctant to discuss paper flaws with students worried that this would torment them for the rest of the examination. More and more children are lacking in confidence when facing government examinations not sure whether the questions are correct, whether papers are marked correctly or whether their marks are correctly added. The system is surely collapsing and no one, repeat, no one in the government can deny this. Anyone who still continues to claim that Sri Lanka has the best education system in Asia must have his or her head examined. The stress faced by children and their parents is unbelievable, and understood only by parents and children who go through this regiment every day particularly in urban (middle class) cities. Tuition, lack of proper intake of food due to rushing from one class to another and spending a total of some 12-14 hours in school and tuition and still staying up late during the wee hours of the morning revising, is not going to help this country grow. Rather it would lead to an unbalanced society.
Sri Lanka is most unlikely or would never be able to create a skilled, efficient or creative human resource if children are overloaded with information that is unnecessary and examinations that are designed to fail students – possibly because there are few placements in state universities.
UNP initiative
The opposition United National Party's plans to appoint a committee of eminent persons which include a former judge, a former Examinations Commissioner, the university lecturers' trade union president and others is laudable with one major flaw though: Any report submitted by this committee however much it has substance, value and a decent education strategy would end up as just a document for discussion or debate. President Mahinda Rajapaksa will surely throw it into the dustbin dubbing it a 'politically-motivated exercise'. The 'eminent' members of the committee would also be labelled 'UNPers' and lose their status as independent persons. Given the highly-charged political environment that we live in today it is more pragmatic and sustainable for initiatives on national issues to emerge from the people, intellectuals and other professionals without any political bias. They should then draw in a wide spectrum of society and present a strategy that wins the support of all sections of the masses and doesn't reflect any affiliation to any particular party, group or community.
Last week, the Business Times carried an article by eminent civil servant Tissa Devendra where he argued that, contrary to popular belief, there has never been and never will be an 'independent' civil service. While his arguments are sound and based on substantial evidence of how the public service existed in the past, one would tend to disagree on one point: Though this has been the case and maybe in the future, isn't there a need to change it and ensure an independent service and what needs to be done to create such a service?
Public service: Two wrongs don't make a right
Two wrongs or for that matter, five wrongs don't make it right – meaning if the public service was not independent earlier it never will be under any administration and cannot be changed. Sri Lanka has the best, possible chance to grow to a developed nation status. However a country is unlikely to grow on weak fundamentals like a politicized public service and weak or politically-influenced regulatory agencies (like the Securities and Exchange Commission -SEC, and the Central Bank) and the failure of all institutions of law, leadership and learning. And, most importantly, the absence of the rule of law or a law that applies only to the people and not the hierarchy or the rulers and their brethren – viz Duminda Silva. The other day, the vehicle in which the wife of a senior police officer was travelling was stopped and charged with a traffic offence. The wife told the policeman that she was highly connected and wanted the charge dropped. The officer refused saying he was only doing his job and the law must apply equally to everyone. In 24 hours he was transferred to another station.
Good fundamentals key to growth
In the absence of a well-regulated economy where corruption persists and the fundamentals are the application of the rule of law with discrimination or bias; a public sector that doesn't serve the people; and regulatory authorities that fail to create a level-playing field- among many other flaws; the country will totter from one crisis to another and growth would be similar to the 1983-2009 era where it was the resilience of the people that ensured an up-and-down average of five per cent growth over the years. 'Real' growth of 8 to 10 per cent would just be a mirage.
Old habits must change. Given the link to a globalised economy and political systems, Sri Lanka cannot continue with an archaic public service or a corrupt administration. To be fair, there is some validity to the argument that maybe the entire human rights principles and guidelines followed by the west are not appropriate for growing countries like Sri Lanka where cultures are different. However no one can deny that one must at least follow the country's constitution that abhors torture, abductions, threats, intimidation, violation of fundamental rights or impunity – all of which are also fundamentals in human rights law in the west.
Sri Lanka needs to have a combination of some human rights processes from the west, public sector independence from countries like India where the civil service and the media are unshakable and a rule of law akin to the Singapore model. Otherwise the coutry can say goodbye to growth and continue to listen to ministers and 'politicised' public officials from administrations over the years justifying the wrongs that have been committed. The west, particularly the US and Europe, has been the whipping boys of the government. But even the government cannot deny that our administrators don't have the guts, courage or wherewithal backed by sound laws to take global banks, powerful politicians and investors to task and court.
Western regulators are tough
Last week, police raided the Paris home and offices of former French President Nicolas Sarkozy in a probe into illegal campaign contributions. Earlier IMF chief Dominique Strauss-Kahn was forced to resign after being arrested on rape charges which he was proved innocent in court but is facing other charges in a French court. Other examples of the effective rule of law are Standard Chartered in the US and Barclays in the UK facing charges while other high-powered investors are facing trial or jailed like Raj Rajaratnam for instance. In the Sri Lankan case, the authorities moved in after the damage is done viz – Golden Key. The Employees Provident Fund and its investments, some in penny stocks (low valued stocks of badly-run companies) is another case in point. Where it would lead to is anybody's guess. In a large state manufacturing company, employees produced a by-product even though they themselves knew it was uneconomical and commercially unviable. "We had to follow the management decision," one worker said. In the same breath, are the EPF fund managers able to operate independently or are they guided by their superiors?
Public must be informed of EPF balance sheet
The public has a right to know because it's public wealth – and billions of rupees – that is being ploughed into the stock market in strong and weak companies. Any investment involves risk-taking, even depositing money in a bank. However the risk-taking must be minimized and good risk-management ensures that the net at the end of the day is a gain. Forget the 'noises' made by the opposition on huge losses by the EPF; Should not the EPF reveal its balance sheet for 2011 as to where investments were made; net gains or net losses? The public has a right to this information and if this is not forthcoming, the courts should be moved as a fundamental right to information which is not of a confidential nature. The EPF and the Central Bank can clear the air and erase any doubts about the investments – which they say is well managed – by revealing this information.
'Kaata kiyannada'
Commentaries like this editorial invariably draw the attention and wrath of the government and lobbyists cum backers in the private sector whose gut reaction is to label such views as 'anti-government'.  In today's world, public apathy over the system of governance is growing and more and more people are saying this is a 'kaata kiyannada' society (meaning that there is no place to complain or seek redress).
The media and the judiciary (in that order) have become the last line of defence for the people and must relentlessly pursue the truth (objectively and without bias, slander or arrogance or power) against all odds – intimidation or subtle harassment. If they fail in that duty bestowed on them by the public, then these institutions are equally guilty, like all politicians from the governing and opposition parties, of failing society. No one can then – if all the instruments of governance fail – find fault with the people for taking the law into their own hands.
(PS: This commentary is written – to use the words of a renowned activist of good governance K.C. Vignarajah – with "Goodwill to all, malice to none, and the courage to  always do the correct thing").
comments powered by

Disqus