Letters to the Editor
View(s):

Why do bullying nations pick on Sri Lanka?

In its international relations, Sri Lanka has been a non-violent, non-interfering member of the world community. However, we are bullied by other, bigger nations. Is it because we are a small country (though some would not describe this country so)? Or is it because we have no military or dollar might? We can only speculate.

In the case of the US, they are a superpower. We abhor America's interference in Vietnam, Iraq and Afghanistan, and its undercover interventions to support dictators. I wholeheartedly agree with Cecil Dharmasena ("Yes, we can be proudly ethnic and still be proudly Sri Lankan", Sunday Times, July 8, 2012). That was a great article.

However, when we examine the domestic record of the US and Sri Lanka, we see big differences between the two countries.
We have to learn from one another and work to improve the welfare of our people, whatever their political ideology, East-West, North-South, etc. We have systems, but now it is a question of systems failure – and citizen freedom suffers.

Henry de Mel Via e mail

How did my life get to be the way it is?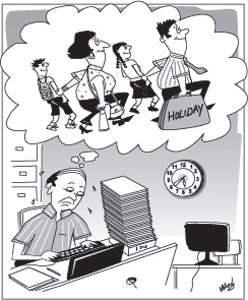 Tedious, I feel, this office life –
The satisfaction I long for – more than money or riches,
To be happy and joyful – has eluded me;
Is it too much to ask?
A Mercedes, a luxury villa, I ask for not –
A simple carefree life is enough for me, thanks;
On the road time drags on, at office time stands still –
Time flies when I am at home,
Not enough to relax or enjoy oneself;
Days go by, and then months –
I grow old and wonder about the list
Of things not yet done, probably never to be done;
How did my life get to be the way it is?
I have become what I most dread –
An aimless, unhappy workaholic – without free time.
Jayanka De Silva,  Moratuwa
Renaming roads: Why forget Reid, Lionel Wendt and the YMCA?
Many letters in the newspapers have focused on the re-naming of roads. This was prompted when Ananda Coomaraswamy Mawatha was re-named Nelum Pokuna Mawatha.In my view, there is no justification for re-naming some of the roads in the city.
Did we have to change Reid Avenue to Philip Gunawardene Mawatha? True, the late Mr. Gunawardene was one of the able lieutenants of the late S.W.R.D. Bandaranaike, and supported his social and political revolution of 1956. He also made sacrifices to help us gain Independence. His memory should be honoured. No one will dispute this.
But why remove the name of Major H. L. Reid, who was Principal of Royal College, when the school moved to its present site in Colombo 7 on October 10, 1923?
Major Reid was also instrumental in initiating the first Royal-Trinity Rugby Match, and he composed the school song for Royal College. How can such a man be forgotten? It is surprising that neither the Royal College Old Boys' Union nor the school principal (who may be excused as he is not an old boy of Royal) made any plea to let the name Reid Avenue remain.
The late Philip Gunawardene's association with Reid Avenue starts from the time he came into occupation of a house at the lower end of Reid Avenue, near Lauries Road. The house was sold in the 1960s, and Mr. Gunawardene moved to a residence in Polhengoda, where his sons presently live.
Perhaps the Colombo Municipal Council authorities may not have known who this Reid was. They may have thought he was a Britisher who came here to pilfer our national treasures. Had they asked the Secretary to the President, or the sons of the late Philip Gunawardene, saner counsel would have prevailed and they would have been told who Reid was. Three of the late Philip Gunawardene's sons – Indika, Prasanna and Dinesh – were all products of Royal College in the 1960s.
Another road recently re-named was Guildford Crescent, where the Lionel Wendt Theatre stands. Lionel Wendt was one of our best photographers, and he was also a distinguished musician.
Guildford Crescent has been named Premasiri Khemadasa Mawatha. True, the late Mr. Khemadasa was a great musician and deserves to be honoured, but why select a road and an area that is not in the least connected to the life and work of Premasiri Khemadasa?
I cannot understand how this road came to be re-named Premasiri Khemadasa Mawatha. If the name had to be changed, it should have been re-named Lionel Wendt Mawatha, or J. P. Obeysekera Mawatha, or Daya Hewavitarne Mawatha. The latter two lived there for decades, and are worthy of having the road named after them.
The other road I wish to mention is Bristol Street, in Fort. The YMCA has stood on this road for nearly a century. The CMC suddenly decides to rename it Sir Razeek Fareed Mawatha, perhaps because the Moors Islamic Society moved their headquarters to this area. But that was only in the 1960s, decades after the YMCA came to be there. The late Sir Fareed laid the foundation stone for the building.
Would it not be a good thing if the CMC, or whoever is responsible for naming or re-naming roads, to consult those who know the history of the city before rushing to rename our roads and streets?
Tilak Fernando, Wellawatte
The child comes first in child abuse cases
There can be no greater crime against humanity than depriving a child of the rightful chance of learning, growing up and taking his or her place as an equal citizen in society.  Let us reflect for a moment how the under-privileged children in our society or 'their children' were prevented from becoming equals with 'our children.'
The late colonial social welfare system was established with commission reports, laws, policies, departments and human resources in the 1940's and brought in to the policy table through the front door of the State. What was openly established in this manner in the 1940's was implicitly abandoned after 1977. The policy table had no room for anything but the mindless pursuit of greed (thinly disguised as economic development).
Human development and social welfare was parcelled out to the private sector retaining a basic structure for political purposes but the function of regulation of a globalized and complex social policy was never seriously attempted. This led to a drift and a state of chaos that was sought to be covered up by setting up powerless authorities and committees and ministries for children, women, disabled and other vulnerable people. Today the nakedness and misery of the social sector can be seen in its predatory fullness where the powerless and women and children are exploited and abused with impunity. It is no longer a question of how many. We are speaking of a situation that cannot be tolerated.
This violence can never be eradicated by the police and courts and by other institutions where victims are incarcerated against their will. The lives of children cannot be suspended like a long forgotten file in a dusty department. They are living, breathing human beings. We must ask the most sensible question that can be asked on behalf of these victims – why should they step into a police station? Why should they face the shame and indignity of appearing in a Magistrate's Court? These places are hardly fit for human beings – leave alone child victims.
The solution for victims has already been explored by our civic conscious doctors. And here I am referring to any victim of inter-personal or domestic violence who has no home to return to – it may be a child or mother or even a grandparent. Paediatricians and psychiatrists have accommodated victims of child abuse in their wards and convened case conferences where a multi-disciplinary conference of police and probation officers and also the loved ones of the child can meet and discuss what should be done to ensure the safety and well being of the child.
This is the foundation. This process began in Karapitiya in Galle in 1996. Unfortunately in the 16 years since that promising start institutions were built and offenders pursued culminating in the current backlog of several thousand files in the Attorney General's Department. We lost our way. We forgot that the FIRST question in child abuse is not how to punish the abuser – it is how to protect the child.
We need to allow the criminal process and the Attorney General and all other powerful beings alone so that they can disentangle themselves of the knots they have got tied in. This will undoubtedly take time – and there is a salutary endeavour that commenced under the current AG when he was Solicitor General to expedite all new cases. This should be supported.
As for the child victim there is no doubt that the cycle of abuse must stop once the government receives a complaint. This cannot be done with the current assumption that the solution for abuse is to prosecute the offender. It is not. The criminal process is only there to safeguard the state interest in law and order. We need a new set of actions for victims. These must be considered by the NCPA and Ministry of Child Development. In getting ready to hang abusers we are also getting ready to forget victims again. This is immoral.
The victim must be transferred immediately to a therapeutic and caring environment in a separate ward in the nearest Government Hospital. Within the child protection team it is a doctor who is best qualified to provide professional leadership to this team. He must have all necessary powers to consult police and probation officers and family members and take decisions in the best interests of the child. Currently there is no independent official with sole responsibility for the child. Criminal investigation steps must follow AFTER normalizing the child.
Necessary links must be established with a State Counsel responsible for the area to so that s/he can provide necessary legal advice on the criminal case. Legal arrangements must also be made to prioritize the needs of these children for education or vocational training and for helping and advising families to maintain ties with the child.
The Attorney General must review the longstanding policy of the Department where indictments are forwarded in cases where there is only a 50% chance of a conviction or less. This is obviously what has led to the clogging up of the High Courts leading to a crisis within the criminal justice system. Prosecutions must be reserved for those cases where state expense and involving the child as a witness can be justified.
Mistakes of the past should not be repeated.
Sajeeva Samaranayake Via e mail
comments powered by

Disqus