Bonds, beans and bare-faced liars
View(s):

As you grow older, there will be three things that you won't, don't, and can't remember. For the nonce, though, some things will remain memorable – one of these being the opening ceremony of the 2012 Olympic Games. For some, because of its sheer boringness in comparison with Beijing. For others, because of its very Britishness in terms of wit, self-effacement, derring-do, and also charm. And what could be more British for its charming derring-do than Her Majesty parachuting into the London limelight with a certain dashing gentleman? "The name's Bond, James Bond."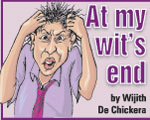 The name's also the one that 007 creator Ian Fleming – himself something of a swashbuckler in espionage circles – picked to make his character sound (wait for it) dull and ordinary. Today the moniker conjures images of, well, queens wittily dashingly charmingly, etc., parachuting into Olympian opening ceremonies. But Bond's origins were intended to be much more plebeian than the spy with the licence to kill, spill, thrill, etc.
Bond's leading lady in his latest escapade comes with an impeccable pedigree of names from royal houses all over Western Europe. Elizabeth Regina (ER) II is ostensibly surnamed Windsor, although her royal consort once went by the appellation Mountbatten-Battenberg. If you think that's a mouthful, try saying Saxe-Coburg-Gotha, which is what the Windsors were called back in Queen Victoria's day. And if strict patrilineal descent was the criterion for naming princes of the realm, the heir to the throne of England, Wales, and Northern Ireland would be surnamed Schleswig-Holstein-Sonderburg-Glücksburg. Which, no doubt, is a name even the redoubtable Prince William would love to forget.
That reminds me: one of the things you won't remember is names.Another unforgettable face that dominated the images snapped up by international media was that of Rowan Atkinson, the memorable Mister Bean. He of the plasticene countenance and elastically contortionist physique, Bean – like Bond – was pressed into service to give London 2012 some extra lift. Bean – like Bond – had previously been employed by Her Majesty's Secret Service, when Atkinson played Johnny English in the eponymous film and sequel, where (as in the BBC TV series) his face was his fortune.
Instantly recognizable to literally billions of delighted viewers worldwide, Mister Bean was presented as a characteristic British duffer – goggle eyes, slack jaw, drooping lower lip, and all. Atkinson has a face made for radio, and the comic actor did not fail his fans – to say nothing of Olympics aficionados – in his hysterically laidback cameo performance as a member of an orchestra who plays a single note while the rest of the ensemble pays homage to the Olympians of the thematic Chariots of Fire. Being British, he knew exactly how to pull off this oxymoronic role with aplomb. Only Jim Carrey of Ace Ventura fame and Jerry Lewis of similarly hilarious vein could have done the same. With this trio, their face is their fortune – although nobody remembers the latter these days…
Which reminds me: as time goes by, you won't remember faces.While these names and faces were lighting up London like an Olympic torch, the flames of forgetfulness were licking a little island-nation which shall remain nameless.
First up is the case of the powerful and energetic minister who promised there would be no shortage of electricity under his watch, but forgot his vow soon enough when power shedding became the name of the game.
Today, our shining light has absented himself from the glare of the public spotlight – probably until the spot of bother over power cuts fades away…
Then there is the memorable case of the man who cannot remember who he is, what he did, and how he came to be where he is now. Of course, his critics could be forgiven for adducing that such "selective amnesia" is "convenient" for a mandarin of the government party facing a murder rap. Others take a less charitable view. They want to know who he thinks he is. Bond? Bean? Battenberg-Mountbatten?
Naturally, though, while our very own Windsors continue to shelter and protect the criminal princes of our realm, the licence to kill with impunity remains hidden in the hands of the Saxe-Coburg-Gothas and Schleswig-Holstein-Sonderburg-Glücksburgs of the underworld domain.
Such forgetfulness has its uses. The killers of opposition politicians and dissident journalists can remain faceless. Those abducted or missing in action may remain faceless to the masses from whose very midst they are extricated. We fail to recall what the war was about in the first place, make a desert of justice and a ruination of truth, and call it peace.
And that brings me to my wit's end. Because between such namelessness and facelessness, you won't remember what the third thing is which you keep forgetting.
comments powered by

Disqus