Art exhibition brings out Swanee's other 'love'
Smriti Daniel
View(s):
Swanee Jayawardene would occasionally refer to painting as her "fourth child." There were times when it claimed her utterly and then she would stand at the easel in one corner of their small two bedroom flat in Bambalapitiya, wielding her brush at a furious pace and producing as many as five canvases in a day. "She lived for painting," says her daughter Manel Jagoda, who cannot remember a time when her mother wasn't like that. "From the time we were crawling she was painting."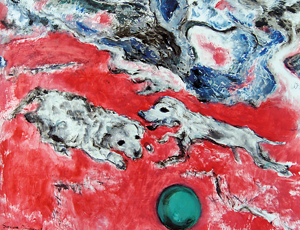 Swanee's name is today more often associated with her influential work in Sri Lankan batik design and the store that bears her name. However, a new exhibition that will feature approximately 100 paintings is set to introduce audiences to the other side of this unusual artist. The exhibition has taken over two years to pull together and is by necessity focused on Swanee's later work. Everything pre-1970 – and there were over 400 paintings – mysteriously disappeared after she entrusted them to a reputed art dealer in Colombo who had promised to stage an exhibition. "She was devastated," Manel says, explaining that it took her mother close to seven years to recover from the loss of what she saw as some of her best work. She only began painting again toward the end of that decade.
Included in those 400 odd early paintings was the work Swanee had done as one of the later members of the '43 Group. She joined in 1954, on the back of a successful joint exhibition with Sushila Fernando at the Colombo Art Gallery. So far, her style had taken shape under art teachers like Cora Abraham, Stanley Abeysinghe and Harry Peiris. After 1977, Manel opines that Swanee's work became more abstract and harder to pin down, Swanee saw good and evil in stark terms and this found expression in her work.
She laboured to produce "perfect" pieces and would often tell her children that one needed solid technique to attempt abstract paintings; if not anything you turned out would be fundamentally weak.
Manel believes that her mother enjoyed teaching as well. She had joined Bishop's College in 1949 and loved working with children. While her work in batik somewhat overwhelmed her career as a painter in the public eye, Swanee was always confident in her art. She knew she was good, says Manel and there was nothing she loved better. Before one of her solo exhibitions at the Lionel Wendt Swanee, who passed away in 2010, told an interviewer "…I wanted to paint. I hated cooking, cleaning and housework. I wanted to paint all the time."
'Art of Swanee Jayawardene' is presented by the Theertha Red Dot Gallery and will be held at the National Art Gallery (Western Hall), Colombo, from August 11-13 from 10 a.m. – 6 p.m. daily.
comments powered by

Disqus