Horror of the Piranha returns
View(s):

John Gulager horror movie 'Piranha 3DD', a tale of the pre-historic school of blood-thirsty piranhas make their way into a newly opened water park, is now being screened at the 'Ultra' theatre at Majestic Cineplex.

From a screenplay by Marcus Dunstan and Patrick Melton the film stars Danielle Panabaker, Matt Bush, David Koechner, Chris Zylka, Katrina Bowden, Gary Busey, and Christopher Lloyd.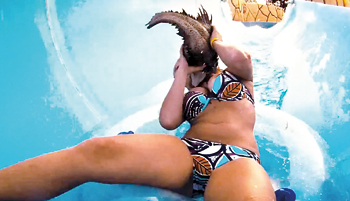 The film comes sequel to the 2010 film 'Piranah 3D', most of the cast returns, including Christopher Lloyd and Ving Rhames, with David Hasselhoff starring as a celebrity lifeguard.
Having awoken from their spring break extravaganza at Lake Victoria, the swarm heads upstream where they look to make a meal out of Big Wet, a local water park where when it comes to fun, nobody does it wetter!
Though they came to get wet, get loaded and get some, the staff and patrons get more than they bargained for when they had to face the fiercest, most bloodthirsty piranhas yet. Lead by the strong-willed, studious Maddy and her friends, Barry and Kyle, the trio had to dive in and take on these man-eating creatures using every ounce of their being but can they be stopped?
Coming under the adult only label, 'Piranha 3DD' is imported by Aaiswariya Films and it is a CEL release.
comments powered by

Disqus