Evolving into singers with flair
By Duvindi Illankoon
Diversity is the keyword of this choir of Visual and Performing Arts University students who are preparing for their upcoming public performance
View(s):
Evolution has certainly lived up to its name. The choir, which originated as a small ensemble of vocally gifted university students in 2007 has grown in leaps and bounds and constantly sought to better themselves and evolve. Watching them prepare for their upcoming performance 'Evolution in Concert', it's clear these gifted youngsters have an undeniable flair for what they do.
Have you listened to them perform? These young singers have got some serious vocal range. Singing Coldplay's Fix You and My Chemical Romance with equal finesse, they exude a certain aura of inborn confidence that can only come with years of practice and hard work.
The choir has evolved from a four-member ensemble to 37 members from all over the island today. Choir director Natalie Gooneratne has handpicked them from the University of Visual and Performing Arts, where she herself is a Lecturer of Voice and believes their diversity is the magic dust and proverbial key to their success.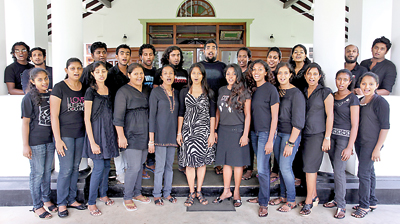 "Can they sing? Of course they can!" she says. "People have asked me that ridiculous question so many times I've lost count. It's not only the homegrown Colombo kids who can sing; I'd just like to say that."
This concert is perhaps an act of defiance against those very critics. It's been a dream of theirs to put this show on, says Natasha Senanayake, who doubles as the choir's composer and musical director with Natalie. The rendition of her song, "Give", is one performance you wouldn't want to miss. "We've been planning it for the best past of four years! So it's great to finally have the chance to pull it off," she smiles.
At the concert, they'll be singing a wide range of numbers; Coldplay, My Chemical Romance, hits from A.R. Rahman's chorally underrated Bombay Dreams to name a few. In addition, they'll be singing some Sinhala and Tamil hits in a nod to their multicultural origins. Can one choir pull off all these different genres? Certainly, says Natalie. "They are truly talented in that they can pull off any genre with style." Look forward to this at the concert, she adds, when they spring some surprise numbers on you.
Also look forward to some interesting guest performances. Billed to perform is Salvage's CC De Silva (he's a previous TNL Onstage winner as well). On the instruments are -Shanon Jacobs on piano, Nishan Daniel on guitar, Dominic Johnpillai on the violin, and the gifted Dilan Rachitha on drums. On a side note, Natasha adds that there is 'absolutely no drum' that Dilan can't play!
They've got so many to thank for where they are today. The two directors make special mention of Haadia Galely for her continued support and assistance, the Sewalanka Foundation, their friends and family and everyone who's stood behind them-and there's quite a crowd.
More than anything though, Natalie expresses her immense gratitude to Natasha, whom she has worked with for the past few years. "Without Natasha, this wouldn't have been a possibility," she says earnestly. Natalie's hope is that this concert will bring Evolution the public acclaim they deserve. They've sung from the heart for too long and too well to let this opportunity slip by.
Don't miss Evolution in Concert this Friday, August 3 at 7.30 p.m at the Lionel Wendt (tickets and box plan at the Wendt).
comments powered by

Disqus