This July, experience the 'Pull' in Sri Lanka, with Keith Chambers
View(s):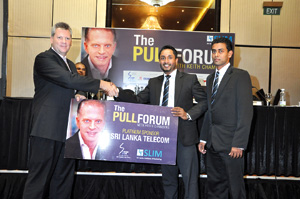 "Every problem has a solution, especially in marketing," says the world renowned expert in Marketing, Keith Chambers. The premier visit of Keith Chambers to Sri Lanka will certainly benefit the Marketing fraternity in the country through 'The Pull Forum' organized by the Sri Lanka Institute of Marketing (SLIM), the national body of Marketing.
"Free enterprise is basically war," says Keith Chambers, founder and president of The Chambers Group and the author of "Pull: Marketing Secrets the Fortune 100 Use." In this book, Chambers shares his successful and innovative techniques and recreates his remarkable 'big-business' marketing methodology for small and medium-sized businesses.  He is also a leading marketing consultant for Fortune 100 brands in USA and assisted more than two hundred goods and service providers in formulating their marketing approach, including Coca Cola, 3M, Clorox, Del Monte, Campbells, Coppertone, Arm & Hammer, Sparkletts, Hormel, Scotch-Brite, and Equal. He also helped companies as varied as Claritin and the Miss America Pageant to develop and convey their product message to the consumer.
"If you are among those who don't believe this, you are likely to become one of its casualties." The revolutionary high level Marketing Consultant says that his best inspiration is the fear of failure.  The Sri Lanka Marketing fraternity can experience and share thoughts and ideas in formulating their marketing approach, developing  and conveying  their product message to the consumer, gain an insight to  successful package designing for brands and bring originality to their marketing approach. Keith Chambers? hands-on expertise and experience will discuss how relationships with consumers have changed from developing campaigns and measuring consumer response to consulting consumers first to define their needs ensuring that they are met in new marketing strategies.
The convention which will focus on the ultimate marketing resource, the secret to success, power of marketing, finding and empowering your brand, reinventing your selling proposition, and creating 'What's next' for all products and services.  This is also be graced by eminent personalities in the field of Marketing in Sri Lanka.  Prof. Uditha Liyanage, the moderator at the Forum is a Leading marketer and the Director of the Postgraduate Institute of Management (PIM), who holds many years of experience in Senior Management and is a leading Marketing Consultant and a developer of Senior Managers.
Dr. Nalaka Godahewa, a panelist for the Forum, and is the Chairman of Sri Lanka Tourism Development Authority. Dr Godahewa is also the Chairman of several other institutes including Colombo Land and Development Company PLC, Divasa Finance Limited, and Liberty Holdings Private Limited. He serves on the Board of Urban Development Authority, Sri Lanka Handicrafts Board, Lanka Hospitals Corporations PLC and Sri Lankan Airlines Catering Services Limited in the capacity of an Independent non executive Director.
Mr. Deepal Sooriyaarachchi, Management Development Consultant, will also be among the eminent panelists. Mr. Sooriyaarachchi counts over thirty years of experience in Sales, Advertising, Marketing, Human Resource Development and Strategy.  He has served as a Director and a Member in many local and internationally acclaimed organizations.
Among the panelists will also be Mr. Ravi Jayawardena, CEO-Sales & Marketing at Maliban Biscuit Manufacturing Limited and has experience in marketing brands in local and multinational companies who is also an accomplished corporate trainer and lecturer in various higher educational institutes.
The Platinum Sponsor for the Forum is Sri Lanka Telecom with a mission which states "Your trusted and proven partner for innovative and exciting communication experiences delivered with passion, quality and commitment" is assisting SLIM in to build up marketing fraternity in the country as they extended their in all corporate activities.
Together with Keith Chambers, the exemplary persona who has assisted a number of goods and service providers in formulating their marketing approach, all the other panelists is ready to share the secrets of success at 'The Pull Forum' which will be held on 25 July, 2012 at Hotel Galadari.
comments powered by

Disqus