12month MBA at Oxford College of Business, where career dreams are made into a reality
Sanchitha Uduwavidana - From Executive Training and Development to Training Manager
View(s):
Applying for the 12month MBA at Oxford College of Business (OCB) in affiliation with the Australian Institute of Business (AIB) has always been the No.1 choice amongst many senior managers deciding to start on an MBA program.
One of the main reasons for this is because businesses worldwide rate Australia's MBA programs highly, it also needs to be mentioned that globally, Australian MBA graduates offer the second highest average salary at US$109,100. This puts the country in second place behind Switzerland, where employers offer MBAs US$10,300 more than Australian graduates. In 2011, Australia was listed as the world's fourth most popular MBA study destination, with 35% of the 4,527 survey respondents specifying it as their preferred location to take an MBA according to the Economist.
Businesses worldwide have a number of Australian business schools as their preference for hiring MBAs among which the Australian Institute of Business (AIB) is considered to be among one of their top preferences. Over 4,500 businesses worldwide which are actively recruiting MBAs, provided details o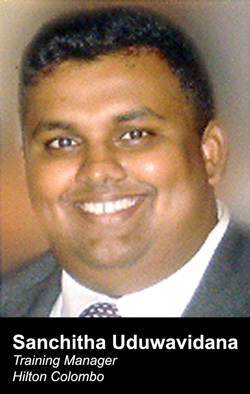 f which schools they prefer to recruit from. They rated 11 business schools in Australia amongst the top schools in the Asia-Pacific region, Melbourne Business School was the highest rated business school in Australia. Other business schools in Australia that have featured prominently in the MBA employer rating include , Australian Institute of Business (AIB) in Adelaide , Macquarie Graduate School of Management, Monash University Faculty of Business and Economics, and Sydney Business School at the University of Wollongong. The existence of  the 12month MBA offered by Australian Institute of Business has enabled Sri Lanka's top corporates the opportunity to obtain a prestigious and highly sought after internal Australian MBA which is internationally and locally fully accredited at a fraction of the cost in just 12 months.
From Executive Training Development to Manager Training Development
When Mr. Sanchitha decided to join the 12month MBA at OCB he was Executive Training and Development at Cinnamon Grand Colombo, which is similar to an assistant manager position. "A few months before the end of the programme, I was in talks about a new position at Hilton Colombo," Sanchitha recalls. "Two months after my MBA, I take up my new position as Training Manager for Hilton Colombo. I don't believe I would have had this opportunity had it not been for my 12month MBA at OCB." Today Sanchitha is regarded as one of the best training managers in the country; "I wanted to enhance my skills to better deal with complex business skills in a broader perspective," he explains.
"I knew that the 12month MBA at OCB would provide me with a lot of opportunities to experience many business cases in a short period; otherwise I would have had to go through many trials and errors in real life, which would have taken a long time. Furthermore, the reputation, respect and the regard the industry places on the 12month MBA at OCB is not second to any other MBA program in the country, and gives us the competitive edge that we need to clinch that important career break that we are looking for"
"The 12month MBA at OCB had an impact on my career from day one," Sanchitha says. "Just the fact that I was doing an MBA in parallel with my job was proof of how dedicated I was to my job, and it was also helpful to move up the career ladder." Not only was Sanchitha juggling work and study, but home life as well. "Full support from family members is essential," he says. "I always tried to keep my wife updated on everything about the programme, so she could have full insight and understanding, without feeling left alone. The 12month MBA at OCB not only enriched my career, but eventually my daily family life as well. But it seems his MBA experience had just as much impact on Sanchitha's wife. "After receiving my degree, I encouraged my wife to pursue the 12month MBA at OCB and now she hopes to graduate in Nov 2012."
"My current job is a product of my 12month AIB MBA at Oxford College of Business"
"The 12month MBA at OCB gave me an important tool of making strategic decisions in life and business through critical analysis and informed judgment while being based on the freedom of choice," Sanchitha says. "In this sense, my current job in is a product of my 12month MBA from the Australian Institute of Business offered at Oxford College of Business."
What he learnt as part of his MBA is very relevant in the workplace today. "It's like having learnt to ride a bicycle," he says. "The "mind-set effect" of my MBA studies will stay with me and impact my career path forever, while more specific technical knowledge taught are so up to date I feel it will remain useful for up to five, seven or even ten years depending on the subject. Most important for me was "learning to learn" in the context of a broad exposure to the wide spectrum of new knowledge."
An MBA designed for those working full time
Sanchitha says the best part of going through the program was forming a totally new paradigmme of concepts and views as well as developing a new mind-set of a broader and more liberal nature. However, he's quick to point out that the 12month MBA is designed by AIB for a specific person in mind. "I think it would be really useful to understand that the 12month MBA at OCB is a programme designed for fully-employed people in an active phase of their career with an obvious lack of time for a full-time programme," Sanchitha says. "It's not for university graduates who have no managerial experience, no matter how bright they are.
"When you embark on the 12month MBA at OCB, to a certain extent, you are becoming Julius Caesar: you do two things simultaneously – studying and working. That's simply clever. But the 12month MBA at OCB is definitely a programme for those who have learnt to fly and are eager to become the first pilot, without quitting the joy of daily practising in the sky."
With such a positive experience of about the 12month MBA offered by Oxford College in affiliation with the Australian Institute of Business, it will come as no surprise that Mr. Sanchitha Uduwavidana recommends the 12month MBA at OCB to others, but he does so for three reasons.
"First, because it might have the same impact on others that it did on me when it comes to career progression and promotions. Second, because it is a real challenge to take up what you can be proud of at the end. Third, because it makes you meet great people, teachers and participants, whom you learn a lot from. And last but not least, as an added bonus, because it enriches your list of friends!" For more information contact the Malindu Ranasinghe – 0714151547 or visit www.12monthmba.com.au
comments powered by

Disqus