No quorum: Opposition fire sparks Government fury
By Chandani Kirinde, Our Lobby Correspondent
View(s):
An offhand remark by UNP Kalutara district Parliamentarian Ajith P. Perera last Wednesday that "people may set Parliament on fire" triggered an angry response from the Government. However, while no one wants to see Parliament gutted to the ground, it's timely, for MPs to ponder why it became necessary for such a remark to be cast in the first place.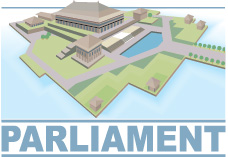 The UNP MP's comment came after the quorum bells had to be rung a third time on Wednesday, when Parliament was debating regulations made under the Ports and Airports Levy Act. Each time, it was UNP members who brought to the attention of the Chair that there was no quorum in the House, thus resulting in the quorum bells being rung, forcing members to rush into the Chamber.
While attendance is an important factor, what is even more lacking is meaningful contribution to debates, from a vast majority of MPs from both sides. Question times, adjournment motions, private members motions and almost all other business in the House is dominated by a few MPs, while many choose not to participate in debates, which is an integral part of their responsibilities as elected representatives of the people.
A common complaint by teachers of leading schools in the country is that, parents who go to extreme extents to have their children enrolled in prestigious schools, lose all interest once their child gains admission to that institution. Similarly, MPs who spend thousands of rupees to get elected, seem to lose interest in remaining in the legislature and contributing to make it a place for more vibrant debate and discussion.
Opposition Leader Ranil Wickremesinghe in early July, made a special statement to the House. He brought up the issue of lack of discipline among MPs and said immediate action had to be taken to reinstate the dignity and decorum of the House.
Mr. Wickremesinghe noted that while every employee had been given a fixed number of working hours and a time to sign in and out from his or her workplace, MPs had not been given a time to come and leave Parliament.
"Therefore, they do not participate in debate or remain in the House. We should introduce a time for the MPs to come and attend the House, and there has to be a fixed time for their departure," he said.
Chief Government Whip Minister Dinesh Guanwardena, who was angered by MP Ajith Perera's remark, brought it to the notice of Deputy Speaker Chandima Weerakkody on Thursday, saying that, the UNP member should withdraw the remark.
"When the first quorum was called at 3.40 p.m., there were 54 ruling party members present in the premises, whereas only 26 from the Opposition. Our members were all engaged in important work in committees including the COPE, Public Accounts Committee and the Petitions Committee. I demand through you, that the new MP who made this remark should withdraw his statement," Minister Gunawardena said.
Opposition Leader Wickremesinghe said that he would look into the matter, but assured that none of the UNP members wanted to see Parliament set ablaze.
"This is a beautiful building and we consider it a pride for our party, since it was the UNP that built it. None of us UNPers want to see it on fire," he said.
Things calmed down after Deputy Speaker Weerakkody advised members on both sides to behave with a sense of responsibility, so that the dignity of Parliament will be safeguarded, and the media not have a chance to report anything that would compromise the dignity of the House. Millions of rupees from public funds are spent each year to provide for MPs and their many needs. They are provided good salaries and allowances, duty free vehicles, housing facilities, foreign trips, in fact, the best of everything, but the purpose of all this is to ensure that they discharge their responsibilities to the public, and not make guest appearances from time to time in Parliament, and then surface only at the time of the next elections to ask for the people's vote.
So, while seniors in both the Government and Opposition agree that the dignity of the House must be maintained, there is also the need for the Legislature to become a more productive place where those elected by the ballot cast by the people, take up issues that affect the public, debate them within the precinct of Parliament, and have them resolved in the best interest of the public.
Otherwise, even if there is no threat of Parliament being burnt down, there is the very real threat that the little faith that people now place in Parliamentary democracy will further dwindle
comments powered by

Disqus