Rosa says lack of guidance keeps Lankan athletes at bay
By David Stephens
View(s):
As the loud report of a starting gun cracked through the midday heat and a collection of the country's top male and female athletes warmed up nearby, the lean figure one of Sri Lanka's finest long distance runners could be spotted in the stands, eyes keenly fixed on the action unfolding on the brilliantly blue running track of the Sugathadasa Stadium. Although it had been several decades since Sellapuliyage Lucien Benedict Rosa himself had taken to the starting blocks, it was crystal clear that his passion for the sport was very much alive.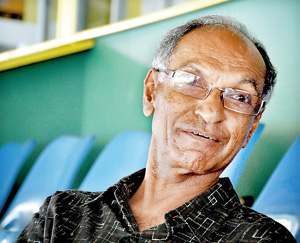 In 1970, at the height of his powers of endurance, Rosa put Sri Lanka on the distance running map with a sublime outing at the 1970 Bangkok Asian Games, where he clinched two gold medals in the 5,000 and 10,000 meters, becoming the nation's first double gold medal winner. His dominance at the games was etched forever in history as his 10,000-meter run was clocked at a record 29:55:6 seconds.
"In 1966 I won two bronze medals at the Asian Games so I made it my goal to do better. But not gold; at least one silver medal because I already had a bronze," Rosa recalls.
"With a lap to go, I was in second, and by that time I had already won the 5,000 meters, so I thought, 'I have a gold, and I'm going to get a silver'. I felt so fresh though, and I could see him (race leader) with 300 meters left to go, and I made up my mind to go past him, and I blew past him like a lightning bolt."
His success, Rosa says, brought on a deep sense of euphoria from the members of the Lankan contingent, with all of them smothering him in celebration. After an even more celebrated career in athletics, filled with the highlights of a record in the marathon at Fukoka City in Japan and national records in the 5000 and 10,000 meters, Rosa hung up his running shoes and retreated to the American state of Wisconsin, where he currently resides. His influence over the sport though, never dwindled as he went on to have an extremely successful coaching career at Wisconsin University.
Currently on an extended visit to his homeland, Rosa is a permanent fixture at many of the local athletic meets. On this day, he finds himself at the Sri Lankan Olympic trials at the Sugathadasa Stadium. Several years ago, in 1972, Rosa too found himself caught up in the Olympic whirlwind, an experience he found both surreal and thrilling.
"I was excited running the Olympics. There was a huge crowd there and there was a huge audience watching from around the world. All of that is there, but you forget it when you are competing. But you will compete and perform only as hard as you train. If you do not train at a high level you are not going to perform at a high level. If you train harder than me, if you have the better times, you are going to beat me," he asserts.
Rosa frequently extols the values of commitment and dedication to the sport, however he says the most vital characteristic distance runners should possess is a deeply-rooted love for what they are doing. He laments that modern day athletes have their priorities eschewed, and constantly pursue peripheral benefits such as money that he explains will "anyway come to you if you love this sport and train with that love."
This passion though, Rosa says, is most often depleted by an overall system that does not push athletes to put their best foot forward.
"In America, high school students run 70 miles a week. Sometimes they go to camps and run even more than that. Our school kids run something like 5000 meters.  Our kids are running a very low mileage," he explains.
"The sport has not risen properly here. The timings they run today, we have run in local meets during my time. The fact that my records still stands in Sri Lanka is a shame; records are broken daily, sometimes in the heats a record is broken and in the finals it is broken again."
Nevertheless, Rosa says that the facilities for any long distance runner to succeed are freely available in the country, with the high altitude and cold climate endurance runners thrive on easily available. The veteran coach also stressed that there is enormous athletic talent in Sri Lanka- citing the country's recent success at the 15th Asian Junior Athletics Championship, where it earned two gold medals from Dulaj Madusanka and Shivanthi Kumari Rathnayake- it just needs proper guidance.
As the morning's selections wind down, Rosa still has a lot left in his tank, purposefully rushing between officials and athletes. To those watching him, one fact freely reveals itself: although he crossed his last finish line so many years ago, S.L.B Rosa is still willing to put in the hard miles for the sport he so dearly cherishes.
comments powered by

Disqus