Sculpting a new generation
By Chamal Weerakkody
Artist and teacher Susantha Kulawansha Kariyawasam trains students who lack the resources to develop their skills
View(s):
Susantha Kulawansha Kariyawasam, a retired arts school teacher from Ambalangoda is a talented artist who paints and sculpts on Buddhist themes. It's a passion he had in his schooldays, a passion he pursued into university and then imparted to his students as an arts teacher.
Kariyawasam (58) has won several awards for his works, the most recent being in the all island competition conducted by the National Craft Council. But for him the most rewarding experience has been imparting to as many students as possible the knowledge on how to enhance their talents in various forms of art. "I was able to take many children from low income families and encourage these students from rural areas to help them achieve their dreams," he said.
The award that Kariyawasam won from the National Arts Council was for his use of a number of materials including water colours and water-based acrylic for his painting of a fishing community attending a ceremony in traditional carts (thirikkal).
Kariyawasam who has completed a Bachelor's Degree (B.A) in visual arts from the University of Kelaniya and then specialized in sculpture began his teaching career at the Karandeniya Mada Kumbura Maha Vidyalaya and later switched to the Ambalangoda Kularathna Vidyalaya.
He spent 20 years teaching art to students who lacked both opportunity and adequate resources to develop their artistic talents. Kariyawasam is also an illustrator and cartoonist and worked as an illustrator for the National Museum.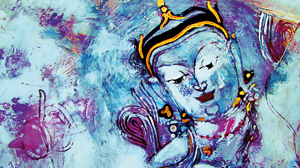 comments powered by

Disqus