Rehan is settling down in Tennessee
View(s):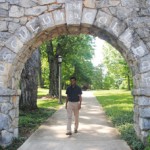 Tusculum College, established in 1794, is the oldest college in the state of Tennessee. The campus is located in Greeneville, a beautiful environment where the Smoky Mountains are the backdrop. It was the winter season of 2011/12 when Tusculum received its first student from Scholarships for USA (Private) Ltd (www.scholarshipsforusa.com) Sri Lanka's top student recruiter to US universities. The weather is cold in the winter, but as Dissa of SUSA wryly points out never as cold as it gets in North Dakota, Minnesota or Montana where they have placed over 100 students in the past.
Rehan Fernandopulle of Negombo is a transfer student from Sri Lanka Institute of information Technology – the Island's top institute for IT – with whom SUSA works closely in introducing top US universities. Rehan's credits of two years of SLIIT were transferred seamlessly to Tusculum College. Rehan recalls how helpful the college administration was in helping the quick transfer of credits, introducing the key members of Tusculum community and helping smooth transfer from a tiny island so far away to Greeneville Tennessee.
What appealed most to Rehan when SUSA offered him a wide choice of US universities that partner with them to select from? Tusculum's amazingly low cost after an extremely generous scholarship. SUSA true to its motto has been passionately committed to make US higher education increasingly affordable and accessible to Lankan youth like Rehan from its very inception.
Tusculum College is based on the "Block System." In the Block System, students take only one class at a time, studying one subject for 18 weekdays. Normally, students only have three hours of classes in a single day from either 8.30 – 11.30 a.m. or 12.30 – 3:30 p.m. There are four blocks per semester, or four subjects per semester. The main advantage in this system is that students only have to concentrate on one subject at a time.
The teachers are highly qualified in their teaching areas. Most of the faculty have their PhDs in their area of teaching. A typical class at Tusculum College consists of 10-20 students. Since the class size is small, each and every student gets the attention of the professor; this is one of the main advantages students experience at Tusculum.
Professors use different techniques of teaching. For example, a Math professor gives a set of homework – mostly 25-35 problems – based on the lessons taught that day. Then, every Wednesday and Friday he gives a quiz from the assigned homework. There are six quizzes that cover 60 percent of the final grade. The final exam covers the remaining 40 percent. The final exam can be based on assigned homework. So if a student does homework, it is easy to score a higher grade in the subject. Most of the subjects at Tusculum College are not dependent on the final exam. Students have the opportunity to score well in assignments rather than worrying about the final exam.
There are many opportunities for students to learn at Tusculum. Students have a tutoring center where they can study, use computers, and print or copy any of their assignments, all for free. If a student feels the need for more help in a subject, they can ask for a tutor. There are senior student tutors who are willing to assist students who need help. Students can discuss problems regarding the subject and can clarify doubts through them.
There are lots of fun things to do outside the classroom at Tusculum College. Each and every student must participate in the Arts and Lecture series at Tusculum College to graduate. These Arts and Lecture series are really fun activities. During each semester, students get a set of events such as films, dramas, concerts, ballet and dance. All activities are free of charge for Tusculum students.
Rehan has many reasons to be happy with. Generous credit transfers will see him graduating ahead of his class at SLIIT. The stunning scholarship will not place additional hardships to his Mom. Part-time and summer internships will help him considerably in lowering his living costs. And mostly the Bachelors degree from the oldest College in Tennessee will place him in the fast track in becoming a global professional.
comments powered by

Disqus