Old boy donates new building to Zahira College
View(s):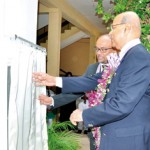 A well known Old Boy of Zahira College, Colombo – Desamanya M.T.A. Furkhan who was one time Principal of the College, Chairman of the Board of Governors, President of the Old Boys Association, President of the Welfare Society, President of the Parents Teachers Association, and currently the Chairman of the Confifi Group of Companies has donated a large building consisting of 28 Classrooms, Computer Laboratory, Auditorium and Prayer Room for the Primary Section of his old school.   He continues to serve on the Board of Governors from the very inception in 1982.
Zahira which was established in 1892 is currently celebrating its One Hundred & Twentieth Year, and in connection with that the Old Boys Association under the leadership of the Managing Director of Hameedia's, Mr. M Fouzul Hameed together with the eighteen members Board of Governors have drawn up an elaborate programme to commemorate its history.   In the last four years, in addition to the Desamanya M T A Furkhan Building three other new buildings, namely the new Science Block Building, (named the Wapichi Marikar Building), a 14 classroom building for the Secondary School donated by the Al Makthoum family of Dubai, UAE and a state of the art Swimming Pool have been added on to the infra-structure.
Desamanya M T A Furkhan who was at one time a Professor of Management Accounting at the University of Sri Jayawardenapura and who was also a Member of the Finance Commission of Sri Lanka and the National Police Commission is a well known professional who is credited with founding  the CIMA (Management Accounting) profession in Sri Lanka.  He has been the President of CIMA, Sri Lanka twice, President of the New South Wales Branch of CIMA, Australia, President of the Institute of Chartered Corporate Secretaries of Sri Lanka, President of the Tourist Hotels Association of Sri Lanka and has held high office in the OPA, Federation of Chambers and the Ceylon Chamber of Commerce.
As Chairman of the Confifi Group, Professor Furkhan has been well known in the Tourism Industry where he was awarded the Sri Lanka Tourism Legend Award for 2008.In recognition of all his contributions to the community both in the academic and in the business fields, the President of Sri Lanka awarded him the title "Deshabandu" in 1987 and later in 2005 the title "Desamanya".
comments powered by

Disqus