Team Blaze from University of Kelaniya wins the CIMA Sri Lanka Global Business Challenge
View(s):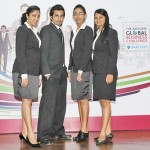 Six months of anxiety, preparation and hard work, all came to a climax when 4 teams from the original 53 that entered the competition battled it out for the title of country winner in Sri Lanka. The winners would go on to represent Sri Lanka at the global finals of the CIMA Global Business Challenge (GBC) scheduled in Colombo, Sri Lanka on 23 and 24 July. The 2012 CIMA GBC is an international business management competition designed to bring out the very best in the next generation of business leaders by analysing a real life scenario and presenting innovative solutions
At the CIMA Sri Lanka Division amidst an audience of distinguished invitees 4 teams who qualified from the regional finals in Sri Lanka, Team 'Blaze' from University of Kelaniya, Team 'Excella' from  University of Sri Jayawardenapura, Team 'Esprit' from University of Moratuwa, and Team 'Unorthodox' from  University of Moratuwa, all made professional and well articulated presentations on a pre set case study and scenario on media production.
Team Blaze from University of Kelaniya carried the title whilst team Unorthodox from University of Moratuwa came a very close second. Team Excella was adjudged the  2nd runner up whilst team Esprit was placed 3rd runner up.This year, over 3500 teams from 22 countries have taken part in the competition, of which over 53 teams registered for the Sri Lanka GBC. Each team won a certificate and cash prizes and gift hampers.
Andrea Sugunasekera, team leader of 'Blaze' speaking on their achievement said 'commitment and team work were the secrets behind our success. Although we had a busy schedule with exams and were from different departments, we still made it a point to find a time slot that all of us were free, which was after 5 p.m. We stayed till late to make sure that we will do our best. So we basically had to do lot of sacrifices taking the competition as a challenge, as we were from different departments there was a good combination. We did lot of research and even on the morning of the competition we went online and updated with the latest financial data. When analyzing the case we questioned ourselves, debated amongst each other and it helped us to better handle the Q & A session. We practiced the presentation so that we will manage our time well'. Andrea also wished to mention a word of thanks to both the academic as well as the non academic staff of the University of Kelaniya and also to friends from the faculty as well as from other faculties who helped them with this achievement.
Bradley Emerson (Regional Director) at CIMA, added:
"CIMA MESANA is very proud of Blaze's achievement in winning the regional round of the 2012 CIMA GBC. Blaze presented the most appropriate solution to the case, their place in the global final is well deserved.   "The standard of this year's competition was higher than ever before and these students are well on their way to becoming tomorrow's business athletes. CIMA represents some of the leaders in business and currently has over 195,000 members and students in 176 countries. I would like to wish 'Team Blaze' every success at the global final in Sri Lanka."
The Sri Lankan will join the other teams flying in from Australia, Bangladesh, Mainland China, Ghana, Hong Kong, India, Indonesia, Ireland, Malaysia, the Middle East, Nepal, New Zealand, Pakistan, the Philippines, Poland, Russia, Singapore, South Africa, Sri Lanka, the UK, Vietnam and Zambia for the title of 'Global Champion'.
The CIMA GBC provides students with a great opportunity to test the depth of their financial knowledge and expand upon their business acumen. In addition, it has previously led to internship opportunities with numerous reputable organisations. CIMA offers an international qualification in management accountancy and is the world's leading and largest professional body in this field.
Follow the GBC experience and support your team on Facebook. Students can share pictures, upload videos and get involved in discussions www.cimaglobal.com/gbcfacebook.
For further information and to register for 2013, please visit the CIMA GBC website at www.cimaglobal.com/gbc
comments powered by

Disqus