A book that calls for bystanders to be more than mere onlookers
View(s):

Sri Lankan author Lukman Haress's book "The Mirage of Dignity on the Highways of Human Progress- the Bystanders' Perspective ' was published in January by Authorhouse US. It was launched in Reading UK on March 21 and will have its Sri Lankan launch in October in Colombo. The London Book Review also featured the book and it is available on online book sites

It appears we have reached the pinnacle of the vast reservoir of knowledge, while our conquest of space, our greatest discoveries and inventions have been moving at a phenomenal rate. Our vast strides in transport, communications and medical science have been breathtaking especially during the last century.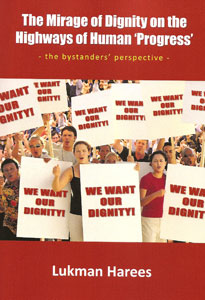 Intellectually, politically and socially too, modern Man seems to have achieved much. After a disastrous WWII, the world was reported to have come of age when the Universal Declaration of Human Rights (UDHR) was proclaimed in 1948.
However, 60 years on human suffering and affronts to dignity, challenges the very credibility of the UDHR and UN institutions.
The undying myth about material progress and development, that it will remove all our human suffering and poverty forever from all corners of the world and ensure happiness and prosperity, now lies shattered. Humanity surprisingly believed this as a fact, for so many years. Even nations that have witnessed unprecedented prosperity during the last five or more decades, such as US and other affluent Western nations, have not been able to exile either poverty or destitution from within their borders.
We have found how the flame of materialism has been devouring time tested moral values, causing chaos within the basic unit in society. When these burning issues are engulfing the world and threatening the very foundation of our civilization, the values mankind stood for throughout history, appear to take a back seat allowing the most important issues like human dignity, rights and social justice to be left to their leaders to deal with. This indifference of the bystanders may become suicidal in the long run.
Therefore questions arise: Is Moral law fading; are political/economic systems and institutions like UN failing in realizing the lofty goal of affording due dignity, basic rights and social justice humanity deserves? Can the bystanders be mere onlookers anymore?
This book seeks to dispassionately survey the yawning gap between the rhetoric and the ground reality in bringing about dignity and social justice for humanity, from bystanders' perspective in the light of these questions and underlines the imperative need for moral progress to go hand in hand with material progress, to make Man assume his due role as the trustee on earth. It also exhorts bystanders to close ranks, irrespective of race, religion and geographic location, to protect our innate dignity, our human identity and basic rights and stand up against onslaughts from power hungry politicians, mighty powers and vested interests.
This is the need of the times and what our future progeny demands of us.
comments powered by

Disqus