Crisis-ridden Govt. trying to confuse people: FSP
View(s):

FSP member Chameera Koswatte dismissed government claims that internal party strife led to the attack on the Katuwana JVP meeting. He said that though they had their political differences (with the JVP) they would not react violently.

Mr. Kowsatte said that the government was in a dilemma over its inability to face the worsening economic crisis coupled with its growing unpopularity among the masses. Therefore it was trying to get extra mileage by blaming the FSP for the Katuwana attack.

He said the Government's accusation could also be an attempt to woo the JVP because it needed parties which appear to be nationalistic and anti-imperialist to cover-up its imperialist attachments.

"On the other hand, a situation is being created where the provincial political thugs affiliated to the ruling party have gone out of control."
The FSP complained to the IGP mainly regarding the failure of the police to act on the complaints on the JVP's attacks on its members, he said.
Mr. Koswatte said there had been a number of assaults on the FSP members by the JVP since the group brokeaway early this year.
The absurdity of the police attitude was that they did nothing to investigate into the FSP complaints until the Katuwana attack.

"The police suddenly become very active, came several times to record statements of the Parliamentarian Ajith Kumara. Why are the Police trying so much to implicate the FSP in the Katuwana attack?" he asked.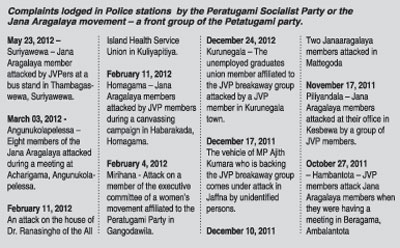 comments powered by

Disqus