'GLORY' at the Margarita Blue
View(s):

The popular band 'Glory' comprising of five young and upcoming musicians are attracting large crowds currently to the Margarita Blue at the Galadari Hotel.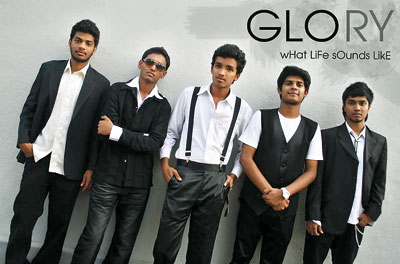 Formed in 2008 in Moratuwa, the band 'Glory' comprises Sanuka Wickramasinghe on lead vocals, Shane Vas on guitar and vocals, Sahan Silva on bass and vocals, Janith Chathuranga on keyboards, saxophone and vocals and Lakshan Fernando on drums.
Well known for a musical style that combines elements of Pop, Classics, Rock n' Roll, Soul, Funk, Classic Rock, R&B, Reggae, Country, Rumba Flamenco, Blues and Jazz, the band has the ability to cater to a wide array of music.
Sanuka possess an inborn talent for singing and comes from a very musical family. A full time musician Sanuka whilst being the lead vocalist is also a music composer. Shane has made his mark in the musical industry for being a guitarist who has a great 'feel' with regards to his musical capabilities and has mastered the talent for improvising to any style of music.
Sahan brings the groove to the band with his guitar and is famed for being a great 'finger style' and 'pick bass guitarist'. Janith has a great talent for Jazz and Blues as well as an extraordinary talent for playing the keyboard. His many talents also include having a great voice to sing and harmonize. Lakshan is an exceptional musician with superb drumming skills. His inspiration is derived from the legendary drummer Simon Philips.
Packed with unending potential 'Glory' takes the Margarita Blue by storm every Sunday from 7.30 pm to 1.00 am.
comments powered by

Disqus