'Appachchi' another tele hit by award winning Ananda
View(s):

Award winning teledrama director Ananda Abeynayake's latest direction 'Appachchi', is a story of a father who struggles to bring up his four young daughters following the untimely death of their mother which is now being telecast at 8.30 pm prime time belt every Saturday on Swarnavahini.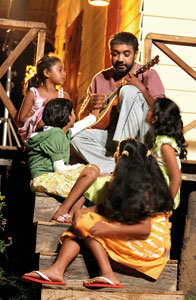 Based on a true story, the teleplay was scripted by young actor and script writer Namal Jayasinghe. As a script writer Jayasinghe has a number of teledramas including 'Jeewithayata Idadennaa' and 'Ahasin Wetuna' directed by Ananda and the film 'Ira Mediyama' made by Prasanna Vithanage.
The teleplay opens with Megana, a young girl aspiring to have her higher education in England writes a book captioned 'Adaraneeya Appachchi' about her memories of her father who brought her up and three other sisters in the absence of their mother. The story begins when a young father Dhamma Bandaranayaka looses his loving wife who was a caring mother of his children and was left alone to raise his four daughters.
The future he hoped to build with his loving wife and children is no more, what's remaining for him is his wife's love for his four daughters and his ambitions.
Bandaranayaka takes up the task of bringing up the daughters with good moral qualities and discipline which was the dream of his wife. Their wooden house built adjoining a small farm is situated by a small lake. Playing the dual roles of father and mother for the young daughters, he ensures that his children stick to values even if they have to face difference of opinions or disagreements.
The father teaches them to be strong at the same time ensures that they be independent and open-minded and above all the daughters to be there for each other at difficult moments.
The four daughters grow into well mannered, good hearted women with commendable human qualities but their father has forgotten to teach them one thing that living according to one's moral values is likely to lead them towards complications.
Once they go out into the world, would they be able to continue to be the women their father thought them to be, would they be able to maintain their moral values and face the world which is full of deceit, pretence and dishonesty becomes the father's worry. The teleplay ends with 'Appachchi' having to resolve all these.
The main cast of 'Appachchi' is played by Jackson Anthony, Chandani Seneviratne, Lucian Bulathsinhala, Priya Ranasinghe, Padmini Divithuragama, Shyam Fernando, Athula Pathirana, Umali Thilakaratne, Namal Jayasinghe and Vishwajith Gunasekara.
comments powered by

Disqus