President Obama honours Girl Scouts of the USA founder
View(s):

United States President Barack Obama has announced that he will award the Presidential Medal of Freedom to Juliette Gordon Low, who founded Girl Scouts of the USA in 1912. The Medal of Freedom is the USA's highest civilian honour. Obama said this year's award recipients had "made a lasting contribution to the life of our nation. They've challenged us, they've inspired us, and they've made the world a better place," he said.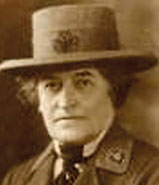 A White House statement praised Girl Scouts of the USA for teaching girls
"self-reliance and resourcefulness" and for encouraging girls to "seek
fulfillment in the professional world and to become active citizens in their
communities".
Juliette Low met Lord Robert Baden-Powell, founder of the British Boy Scouts, when she was staying in England in 1911. She became interested in the Scouting Movement during her visit, and she organized a troop of Girl Guides among poor girls at her estate at Glenlyon, Scotland. She went on to found two more troops in London.The next year, she returned to her home country and on March 12, 1912 she established the first troop of Girl Scouts in the United States.
When Mrs. Juliette Gordon-Low took Guiding to the USA in 1912, she found that the name 'Girl Guides' was already in use, and so she established the Movement in the USA as the Girl Scouts of the United States of America.
To this day, depending on which country provides assistance in establishing the Movement, member organizations adopt the name 'Girl Guides' or 'Girl Scouts'. The Girl Guide Movement which counts over 10 million members is known as the World Association of Girl Guides and Girl Scouts.
95th Anniversary Quiz No. 2
To win a gift voucher, send in your answers by July 15, 2012 to
Anniversary Competition, Girl Guide Headquarters, 10, Sir Marcus Fernando Mawatha, Colombo 7, together with your name, contact address and telephone number, school, and Company/Pack number.
1. Name 2 international awards that have been won by the Sri Lanka Girl Guides Association? Which Company/Pack won these awards? In which years were they won? For what did they receive these awards?
2. Name three pioneers of the Sri Lanka Girl Guides Association who have not held the post of Chief Commissioner.
comments powered by

Disqus