What constrains foreign direct investment?
View(s):

The low level of foreign direct investment is a serious constraint to sustained rapid economic development. Despite an increase in foreign investment last year to a little above US$ 1 billion, this is inadequate to move the economy to higher levels of economic growth.
Moreover it is not only the amount of foreign direct investment that matters but the types of foreign direct investment.

The country has been unable to attract the kinds of investments that would have multiplier benefits to the economy from increased exports and transfer of technology.

Foreign investment is a significant driver of economic development. It fills the savings-investment gap and enhances investment and economic growth. FDI contributes to improving work ethics, discipline, skills and knowledge of workers. It is an important means of technology transfer and transmission of best practices in management and often brings with them international markets. It is the realisation of these economic benefits that has made former communist countries like China and Vietnam, and the formerly inward looking Indian economy to actively seek foreign investment.

Inadequate foreign investment

The 2011 annual report of the Finance Ministry said: "Despite policy reforms towards private sector development, the private sector investment is constrained by several factors which need urgent corrective actions by strengthening institutional set up," The report points out that in 2011 the country obtained a record $ 1.06 billion in Foreign Direct Investment and private investment increased to 23.7 per cent of GDP.
However it points out that to achieve double-digit growth, foreign investment has to be increased to around 30 per cent of GDP.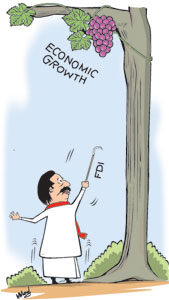 The Finance Ministry report said, "As promotional agencies particularly in investment, tourism and export have operated under traditional institutional framework with red tapes, lack of investor friendly institutional environment, poor coordination with other Government agencies and lack of conclusive decision making process,"
The inadequate inflow of foreign investment made the Treasury Secretary who is also the Secretary to the Ministry Economic Development to ponder over the reasons for this disappointing performance. According to Dr. P.B. Jayasundera, there are several deficiencies in the administration that discourage FDI. The weaknesses Dr. Jayasundera pointed out were administrative, organisational and bureaucratic. He pointed out that there was a lack of focus in investment priorities. He was critical of the approval processes for foreign investors as investors have to deal with multiple agencies. Inadequate flexibility of the Ministries and agencies to promote private sector into commercial activities were serious drawbacks according to Jayasundera.
Absence of coordinated promotion by BOI, Tourism authorities, EDB, Tea Board, Foreign Investment Bureau and the highly compartmentalised bureaucracy, he argued were disincentives for foreign investors. Outdated institutional setting in investment promotion agencies and inadequate professional skills were also deemed to be deterrents. He even contended that price controls on some selected commodities: milk, poultry, and cement instead of using price formula and regulatory supervision.
Now that the secretary himself contends that these are constraints, there can be no doubt that these are prevailing weaknesses. They are administrative, organisational and bureaucratic bottlenecks for investment. Important as these may be there are other broader economic reasons why investment, both domestic and foreign, is not coming in either the amounts or the types of investment desired.
Significant factors
The earlier contention was that the country was not obtaining adequate foreign investments owing to terrorism, the ongoing war and insecurity. These were definite constraints to foreign investment. In fact these were deterrents and discouragements since the 1983 ethnic violence that escalated into terrorism and the prolonged war. Many investors, especially large Japanese investors, were much concerned about insecurity in the country and did not invest here.
However the misconception was that peace alone would be adequate to encourage foreign investors. After three years of peace, it is now quite clear that peace is necessary but not a sufficient condition to induce foreign direct investment.
Policy uncertainty in the investment regime; the Termination of Workers Act of 1971 that is still on the books; policy inconsistency between the main decision making bodies: Treasury, Central Bank, and leading ministries; poor overall governance and an unsatisfactory law and order situation; absence of supportive infrastructure and high cost of doing business are among the factors that have been inimical to developing a conducive climate for foreign investors. The classic case of a deterrent to private investment was the government's takeover of assets of lossmaking and underperforming businesses.
Foreign investment is influenced by political and economic stability, tax and other incentives, labour regulations, work ethics, social and economic infrastructure, and costs of production, potential domestic market and an overall assessment of political and economic conditions. Some investments are deterred by perceptions of corruption. The political situation is stable as the government is secure to rule for at least another four-year period and has a huge majority in parliament. However, this very "stability" could be a factor discouraging investments as policies and governance have become arbitrary and uncertain rather than based on principles, discussion and debate. The continuous protests and violence; issues in media freedom that are highlighted around the world are unfavourable features.
Economic factors
Macroeconomic conditions of the economy matter. The high fiscal deficits, a large foreign debt of over US$ 21 billion, debt servicing costs that absorb a high proportion of revenue, external debt servicing cost of 20 percent of export earnings, the massive trade deficit, potential inflation and volatility in currency value, are among other macroeconomic indicators that dissuade foreign investment. Labour legislation is another area where investors find the lack of freedom to hire and fire an inflexibility. There are fears that inflation may rise again owing to the weaknesses in economic fundamentals.
Costs of production play an important role in investor determination of investment locations. Sri Lanka is no longer a cheap labour country. There are other countries such as Vietnam and Bangladesh where labour is probably cheaper. Labour regulations in the country also affect investment: labour regulations do not permit labour discontinuance either owing to changing market conditions or on disciplinary grounds. Several production costs too are high; this is especially so with respect to energy costs that is deemed one of the highest.
Further, the possibility of selling in the domestic market is limited. Large countries like India and China offer good prospects of local sales. This is why countries such as India and China are manufacturers of cars. Since Sri Lanka is a location for export manufacture, the recession in western countries offers poor prospects for exports. The exception to this trend of low foreign investment is the recent purchase of land in prime property areas for construction of large international hotels.
There have been improvements in social and economic infrastructure. There are a wide range of international schools, private health facilities have improved immensely, and the road network developed. The country is no doubt a pleasant location for foreigners to reside.
Conclusion
Factors determining foreign investment are many. For one or more of these reasons, the international investment community does not appear to consider Sri Lanka a favourable destination for investment. Whatever be the precise reasons for tardy foreign investment, the government must look into the reasons and provide a climate for enhanced foreign direct investment. Without a larger inflow of foreign investment, sustained economic growth of 8 per cent or more is unrealistic.
comments powered by

Disqus