Swedish e-health provider Cambio Healthcare Systems is shaping tomorrow's health care with an ambitious, global plan: To provide hospitals and health care centres with state-of-the-art systems that radically improve patient administration services and clinical decision support.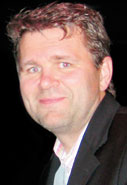 Goran Skold
But don't think of Cambio as IT-provider: We regard ourselves as a healthcare company, and that's probably the secret of our success, says Goran Skold, Senior Vice President Software and Engineering at Cambioin an interview with the Sunday Times, at the company's development centre in Colombo 3
Cambio offers solutions within all health care sectors and health organizations, and our approach is all about meeting the needs of modern health care. Our system Cambio COSMIC is developed strictly from the users - that is the doctor's or the nurse's - perspectives, Goran Skold comments. He also revealed that Cambio Healthcare System's establishment in Colombo is flourishing and that they are now looking to strengthen its presence in Sri Lanka as the company continues its worldwide expansion.
Today, the company caters to the health care needs of Sweden, Denmark and UK. Goran Skold believes the company's success derives from its core commitment of developing health care services in close cooperation with the health care world.Our entire operation is based on collaboration and frequent dialogue within the entire healthcare system.We are constantly seeking new ways to create safer, more secure healthcare and Cambio is currently involved in extensive research and development within e-Health. We collaborate with a number of academic research centres in the field of informatics and Cambio is actively participating in the development of open HER arche types.
To accommodate the growing staff and to meet market demands, Cambio Healthcare Systems has moved to a new Development Centre consisting of a brand new, custom designed seven floor building located in Colombo 3. Cambio initially launched operations in Colombo in 2005 with Creative Solutions. At the beginning of 2010, the company had 80 employees, consisting mainly of software developers and engineers.
The number of employees had risen to 175. By the year 2011, Cambio recruited and trained these employees, almost all are degree holders from local universities, ,Goran Skold explains. Our Sri Lanka team, which consists of highly skilled and motivated engineers and developers from the best universities in Sri Lanka, play an essential part of our successful business, he says.
We needed a development centre with all facilities including high end server equipment to provide a good software development environment. With the rapid growth we have also restructured the way we communicate and work. Our new building has been carefully designed to support and enhance our software development process Goran Skold concludes.
Cambio Healthcare Systems was founded in 1993 in Sweden and has rapidly grown to one of the world's leading e-health providers with offices in Sweden, UK and Sri Lanka. Its global team consists of about 300 dedicated experts including 175 software engineers in Sri Lanka. Its main product is Cambio COSMIC, a patient-centered electronic record system that includes Clinical Care Documentation, Order Management and Patient Administration Systems. Cambio COSMIC is currently licensed for over 85 000 users in General hospitals, University hospitals, primary care clinics and specialist units all over Europe.