Colombo International School (CIS), Colombo and Asian International School (AIS) clinched the boys' and girls' titles at the Under-19 Inter-International Schools Basketball Tournament held at the indoor courts of British School in Colombo last week. The Colombo branch of CIS beat their Kandy counterparts by 86-82 in a nail-biting final.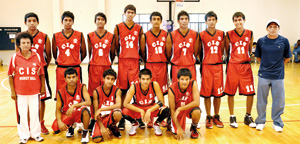 The victorious CIS Colombo team
The first quarter saw CIS Kandy take the lead by 19-11 but CIS Colombo dominated the second quarter to take the lead 34-26. The third quarter was evenly contested and CIS Kandy won it at 26-20. However it was CIS Colombo who was in the lead at 54-52. CIS Kandy made a gallant effort to win the fourth quarter at 24-22 and tied the game at 76-all taking the game into extra time. CIS Colombo scored 10 points against 6 by CIS Kandy eventually to win the final at 86-82 to clinch the boys' title.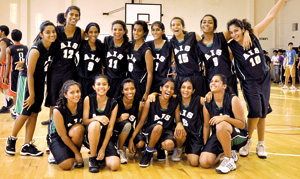 The Girls basketball team of Asian International School who won the championship
Shannon Bartley of CIS Colombo was adjudged the Most Valuable Player of the tournament while Ishan Saif and Lahiru Karaliyedda of CIS Kandy won the Best Defensive and Best Offensive players' awards respectively. The third place went to Asian International School.
AIS easily beat Overseas Children's School (OCS) at 56-30 to win the Under-19 Girls' Championship of the contest. The winners won all four quarters scoring 12, 20, 18 and 16 points respectively while restricting OCS to 4, 5, 5 and 6 points in the four quarters.
Amani Perera of AIS was named the Most Valuable Player in the girls' segment while her team-mate Madumitha Ravi won the Best Offensive Player's award. Krishni Mendis of OCS won the award for the Best Defensive Player. British School, Colombo was placed third in the tournament. The tournament was organized by British School in Colombo and was conducted at its indoor and outdoor basketball courts.
– NA (Pix by Amila Prabodha)