The almost gavel playground at President's Girls' School, Nawala which is fondly referred to as Sabina Park by cricketers of yesteryears is today a haven for budding girl hockey players. Young Imesha Lakshani is one such lass.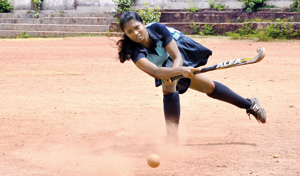 Imesha Lakshani in action
At 16 years of age, Lakshani is a great asset for President's Girls' School, Nawala. Lakshani is a keen hockey player with lots of talent and still plays for the Under-17 team of the school. Lakshani got the opportunity to play in the school Under-19 at the Junior Hockey National Hockey Championships. She not only displayed enormous skills throughout the tournament but also went on to grab the award for the 'Best Player of the Tournament' in her first appearance at the competition.
Laskshani also obrained a place in the Sri Lanka Girls' Under-21 hockey team which won the silver medal at the 3rd Asian Hockey Federation Cup in Bangkok, Thailand in July. Lakshani's terrific pace at hockey comes as a great boost for President's Girls' School, Nawala. Presently she is emerging as a key sporting figure at the institution.
"I'm really happy of what I have achieved. It's just the start. I hope I will be able to reach greater heights in the sport," stated Lakshani. She was ten-years-old when one of her friends encouraged Lakshani to join hockey practices in 2005. At the start, she was clueless to the sport but later liked the game and was determined to do well in it.
"During the latter part of 2006, our team started winning matches and went on to win a championship at the junior level. I really enjoyed being with the team when we enjoyed success. I felt proud and took the game seriously. Eventually here I am at the pinnacle of the sport I have chosen. By the way my friend who pushed me to take up hockey had given up," said Lakshani.
Laskshani had been inspired by her teacher-in-charge of hockey, Anjana Abeyratne who had been a prominent player during her schooldays at Visakha Vidyalaya and then for Sri Lanka. Abeyratne had indirectly motivated her young players to become specialists in the game within a short span. Lakshani is one such player.
Lakshani plays as a centre half, the position where she is most competent in order to unleash her true potential. She also plays as a centre forward or an inside. "My interest is always on the success of the team. I make it a point to deliver the best in order to make my team-mates at President's the best team in the island. That's my ambition as a player and whatever comes on the way is a bonus," related Lakshani while praising the encouragement given to her from her family.
"My father, Sumith Lal, mother and brother are great sports lovers. My father follows my achievements at all the games I play. He even comes to all the outstations games I play. My mother finds it hard to witness all my matches. Whenever she gets time, she comes to encourage me. My brother who is a rugby player at President's College Rajagiriya supports me by providing videos of hockey matches and training tips. Both of us do a workout session in the evenings. This has helped me to become a fit player".
Lakshani who is also a track and field athlete has taken part in several hockey games during her short yet glittering and prospective career. She named two matches which she rated as her best. The first was the quarterfinal against Pushpadana Girls' School Kandy at the Junior Nationals this year and the other as the final of the 3rd Asian Hockey Federation Cup against Chinese Taipei where Sri Lanka lost 7-0.
"These two games will be treasured in my memory for a long time. The match against Pushapadana was a close one while in Bangkok it was really a game where we learned a lot though we lost. I leant a lot from these two games," she said.
Lakshani hopes to reach the international level and remain at the top as long as she can. She also has three more years to go before completing her school career. Lakshani's only wish is to retain the national junior title during her playing years at President's before stepping into a higher level.
"Among my hopes and aspirations, is to help my school to prosper in sports. I also wish to encourage youngsters and help them reach our standard in hockey. As I was inspired by my teachers, I wish to become an inspiration for the younger generation and motivate them while looking forward to a bright future," stated a lively Lakshani.
– Naushad Amit
(Pix by Amila Prabodha)