Badulla Vishaka Girls' High School (Vishaka National School) stands as one of the top schools in Badulla District for academic excellence. The most remarkable characteristic of the Vishakians is their discipline. In the early years, this was the only girls' school that provided high quality education.
Vishaka Girls' High School, with only 50 students, was established in 1892, as an English medium, mixed private Methodist school by the Methodist missionaries, In 1963, the school was taken over by the government and re-named Vishaka Balika Maha Vidyalaya. In 1993, it was made a National school.
Starting with just 50 students' way back in 1892, she now has about 2,500 students on her roll today, with an academic staff of more than 100. The present principal is Mrs. M. Wimalawathy (SLPS I). The school now comprises of eight buildings, a large playground and teachers' quarters, along with other facilities such as a well equipped IT Unit, Science lab and Library.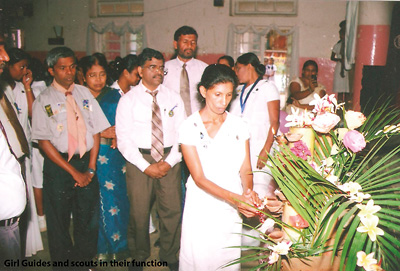 During a long span of 119 years, the school has produced women of distinction excelling in diverse disciplines spread out worldwide. Grade 5 scholarship examinations bring a great deal of success with more than 50 passes. This year too, brought them the same with 61 passes, and the highest marks of 187.
The GCE. (OL) brings pride to the school, with an extraordinary success rate of more than 70% qualifying for the Advanced Level. Nonetheless, the Vishakians produce excellent results at the GCE (AL) with the help of capable graduate tutors.
Vishakian's record in Sports and other co-curricular activities are no less worthy of mention. Lashani Vidanaduruge brought credit by coming second in the 200m at the All Island Inter School athletics meet this year. Two students from this school came first and second in the 100m and 200m at the same meet last year. The Under-15 Carrom team were All Island Champions last year.
The school's Dancing and Music troupe were placed first at the All Island Dancing competition in 2010.
For the benefit of the students, several organizations have been formed, which conduct many useful programmes to develop the character and attitudes of the students. There are a variety of associations and societies functioning efficiently and productively. These associations help in creating new skills, leadership, personality, and positive attitude among the students.
The Old Girls' Association (OGA) is a pillar to the school, which devotes their money, time and energy for the welfare of the school and conducts many development programmes for the benefit of the school.
"Producing tomorrow's leaders as well as disciplined, educated and motivated daughters for the motherland" is the vision of the school. The School has given the best to its daughters. They will shine bright and dispel the darkness where ever you go.
Sujitha Miranda