ICBT Campus, the leader in Private Sector Higher Education has been providing high quality education in Sri Lanka for more than 12 years. ICBT Campus delivers Certificate to Doctoral level programmes in Business, Management, IT, Software Development, Networking, Engineering ( The only Campus where you can choose from 07 Different Specialized areas in Engineering in the country), Quantity Surveying, Early Years Education, Bio Medical and Psychology awarded by highly recognized International Universities & awarding bodies from UK, Sweden & Australia.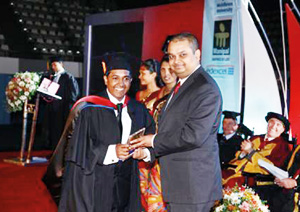 ICBT Campus was awarded recently with many accolades bearing testimony to ICBT being the leader in Private Sector Higher Education from Edexcel International, UK as the Leading HND Center in the Sri Lanka with the highest number of students, by British Council as the "Partner of the Year, 2011" for the highest number of IELTS exam registrations by a partner and by LMD Magazine to be ranked amongst the "Top most respected 100 entities in Sri Lanka" as the only private sector higher education provider in the country.
Adding more colors to ICBT's range of accolades, one of the Leading IT Companies in the Country with an International presence in many countries "Virtusa" awarded two of ICBT Campus BSc (Hons) in Business Information Systems Management graduates Mr.HafeezSalih and Mr. ArshadAmeer with "Virtusa Merit awards" for their Excellent academic achievements at the recently concluded ICBT Campus Graduation Ceremony.
Next Intake for BSc (Hons) in Business Information Systems Management awarded by prestigious Middlesex University,UK will be in January, 2011 and further information can be obtained by contacting ICBT City Campus, Colombo-04 on 011-4869999.