FTMS Global Academy, Singapore in collaboration with CIMA Sri Lanka Division is very pleased to introduce the Master of Business Administration (MBA) programme offered by Anglia Ruskin University (UK) to CIMA members and exam completed students. The launch of this collaboration took place at CIMA Sri Lanka Division on 24 November 2011.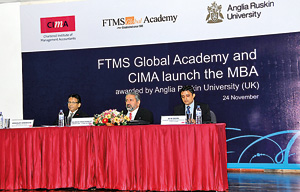 Bradley Emerson, Regional Director South Asia, Middle East & North Africa, at the launch said, "We are proud to partner with FTMSGlobal Academy in this collaboration effort to bring quality education opportunity to our CIMA members. With the long successful track record of FTMS Global, we are certain our CIMA members will gain immeasurably on this collaboration. The uniqueness of this programme is that it is delivered in Singapore and that there is potential employment opportunity in Singapore".
Mr Balbeer S Mangat, CEO of FTMSGlobal said at the launch ceremony, "FTMSGlobal has been in the business of educating professionals for over 25 years. We provide higher education opportunity to professionals to increase their potential to hold higher appointments in Sri Lanka and overseas. We firmly believe, CIMA members and exam completed students from CIMA Sri Lanka Division has the correct ingredients for success. This collaboration marks a milestone in our efforts to bring quality higher education to the doorsteps of professional bodies. We are very pleased to work with CIMA Sri Lanka Division to ensure every success to this collaboration".
This MBA programme which has been running in the UK, is now offered to CIMA members and exam completed students with a special scholarship grant equivalent to 40% of the course fees by FTMS Global Academy. This MBA programme, which could be completed in 12 months, will provide CIMA members and exam completed students an opportunity to further upgrade their professional qualification and increase their chances for an overseas career opportunity.