ESOFT Computer Studies signed up as the Educational Partner of Sri Lanka's flagship ICT Expo Infotel 2011. Infotel 2011 will be held from the 2nd to 5th Dec 2011 at the BMICH. This event is organized by the Federation of Information Technology Industry of Sri Lanka (FITIS) in partnership with Ministry of Telecommunication and IT and ICTA. This will be the 11th exhibition in the series and the first event after organizers decided to hold event annually.
The exhibition will be one of the largest student gatherings as a large number of school children will attend the Infotel Exhibition to experience the latest ICT development of the global cyber village. School Children from all parts of the country will also visit the dedicated "Students Day" on 5th December when IT/BPO career guidance sessions will be held throughout the day.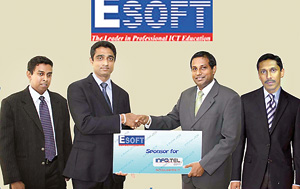 ESOFT-Chairman, Dr Dayan Rajapakse handing over the Sponsorship Cheque to FITIS CEO Mr. Damith Hettihewa. Dr. Prasanna Lokuge CEO-ESOFT International (Pvt) Ltd and Mr Sajith Navaz Secretary FITIS Hardware Chapter are also in the picture.
"ESOFT is delighted to work with FITIS for this year's Infotel 2011 Sri Lanka ICT Expo as it contributes in achieving our key national ICT objectives. ESOFT will make use of this opportunity to showcase the educational programmes and products that we have on offer for both children and adults" said Dr. Dayan Rajapakse, Chairman of ESOFT.
At the Education Pavilion, ESOFT will showcase various educational options and paths for students who would like to take on an ICT career. Infotel 2011 offers an ideal platform for ICT stakeholders in Sri Lanka and the neighboring South Asian Region to explore and capitalize the new growth and wealth creation opportunities in the country. One of the key highlights of the Infotel 2011 Expo is the participation. It has been elevated to an international expo level and corporate CIO meeting place, says Mr Sajith Navaz, Secretary of FITIS Hardware Chapter and a member of Infotel 2011 Main Organizing Committee.
Mr Navaz further said, "With Sri Lanka poised to be 'The Miracle of Asia', initiatives such as Infotel 2011 will be more focused towards the country's national growth. Today IT has become a core factor in any type of growth industry which can range from a very small business enterprise to that of a top corporate. We are very sure that in the future the area of IT will be the main driving force behind the country's growth. We are hoping to position this year's Infotel exhibition as a regional show, where we can position Sri Lankan products to the outside world. In order for the country to grow and expand we must open up more avenues of employment, therefore alongside the exhibition we will also be focusing on areas such as career guidance."
Speaking on the main objectives of this year's Infotel 2010 Mr. Damith Hettihewa CEO FITIS said, "Key objective of the exhibition is to mobilize all citizens towards achieving national ICT objectives set out by His Excellency the President Mahinda Rajapaksa in "Mahinda Chintahna" Vision for the Future and Ministry of Telecommunication and IT, namely Creating a Knowledge Hub, 75% ICT literacy and US$ 1 Billion ICT related exports by 2015. Although Infotel has been a bi-annual event in the last 18 years, this is the first time we are hosting this event on an annual basis after significant success we had last year. This year's Infotel Expo will be unique as it will not be limited to a showcase of ICT product and gadgets but will be an ICT Expo of international standards and a meeting place for corporates, buyers, sellers, recruiting companies, career seekers and IT enthusiasts alike.
Outlining the INFOTEL 2011 Programme, Mr Hettihewa said an interesting and knowledge enhancing programme of activities has been planned to coincide with the Infotel 2011 Sri Lanka ICT Expo, including the Student Day and the Career Fair where large numbers of students and career seekers are expected to participate. The glamorous Infotel Awards Ceremony and Gala Dinner will be held on 4th December at the BMICH premises.
Federation of Information Technology Industry Sri Lanka (FITIS) has been in operation for the past 15 years as the unified umbrella organization of the ICT industry in Sri Lanka and actively engaged in developing the ICT industry with many programs and initiatives.