Monash University Sunway campus will introduce two new postgraduate courses next year: the Master of Communications and Media Studies, and the Master of Business Information Systems.
The Master of Communications and Media Studies, taught at the School of Arts and Social Sciences, focuses on the challenges posed by the emergence of digital media, globalisation and increasing levels of cross-cultural exchange.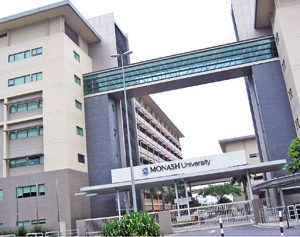 "If you are looking to learn a skill….looking for a vocational degree then this is not the place for you," explains Professor James Chin, the Head of School. "We do not teach you a skill but we offer you the framework to understand (and analyze) societal changes, in this case we specifically fit the overall framework into the media industry in Malaysia," he said.
Targeting young professionals in middle management, recent graduates, industry professionals such as media planners, media strategists and those in corporate communication and public relations, this programme will provide a wider perspective on the industry and allow them to upgrade themselves.
The course is introduced at a time when those interested in pursuing postgraduate studies are seeking a "thinking degree".
Hence, students of the Master of Communications and Media Studies will add on new knowledge in the media industry and learn analytical skills to understand key trends in the Asian and global media and communication market.
Another key element, said Professor Chin, was the emphasis placed on research. Students, he elaborated, would get a sound footing in research methodology and ethics and be able to undertake small independent research projects.
"We feel strongly that Malaysia is one of the few countries in the region where new media has taken off in a big way. This postgraduate degree will help those who wish to understand and benefit from these phenomena," he said.
The Master of Communications and Media Studies is a 18-month programme that will commence in February. Classes will be conducted half-day on Saturdays. Thought at Monash University Sunway campus' School of Information Technology, the Master of Business Information Systemsoffers a unique take for students to gain a mature understanding of business information systems to a new level of depth and sophistication.
The flexible course is open to students from any educational or professional backgrounds who want to understand how the field of business is influenced by information technology. The course will provide students with the knowledge, understanding and experiences to deal with rapid changes in the IT field.
The Master of Business Information Systems is offered on a full-time (one and a half years) and part-time (three years) and includes 12-units.
Students need to undertake four foundation core units including computer programming for business and information technology management while electives include project management, IT strategy and governance and information and knowledge management systems.www.monash.edu.my
With this in view the school of Information Technology has introduced the Master of B usiness Information System (MBIS) to equip professionals in the areas of IT management, applications development, information systems, business consultancy and knowledge management.
Attend our MBIS preview consult with our internationally experienced academics, discuss you prospects with course counselors, and discover what a postgraduate degree from Monash can do for your future.
MIBS preview will be held at Cinnamon Lakeside Hotel at Dukes court 1 on the 27th of November 2011 at 4.30pm presented by Dr. Jayantha Rajapakse senior lecturer postgraduate coordinator.
All services offered by Aspirations Education is absolutely free of charge. Call us on 0777-539888 for Registration.