The Government's intention maybe to turn the country into a 'Shangri-La'- an earthly paradise, by generously apportioning land for massive development projects. However, as the Opposition questioned in Parliament last Thursday, the manner in which such transactions are being undertaken leave too many questions unanswered, leaving room for wild speculation on whether it is the country that would eventually benefit from such plans, or just a handful of individuals.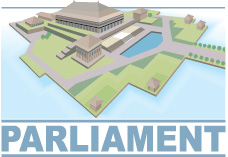 The issue of the large scale sale and leasing of State land to both local and foreign buyers came up for discussion during a daylong adjournment debate moved by Democratic National Alliance (DNA) MP Anura Dissanayaka in Parliament last Thursday.
In a lengthy speech, Mr. Dissanayaka said the Government has begun selling land that should be used for farming, to big companies for development as tourist sites, while the interest of the poor are ignored.
"It was due to land that many wars have been waged, and this is what happened for years in this country as well. With the end of the war, the Government is dispensing land as it pleases," he said.
UNP Kurunegala District MP Dayasiri Jayasekera who seconded the motion, said that, for a Government that wears patriotism on its sleeve, this kind of plundering of land that belongs to the public is unacceptable. "When the UNP was in power, and some land was sold to foreigners, those in the present Government were up in arms. Today, they are doing worse things and apportioning land at their whim and fancy, disregarding all laws," he alleged.
UNP National List MP Dr. Harsha De Silva cited cases in Sinharajah, Knuckles Range, Kalpitiya and Galle Face as instances where there have been land transactions with no transparency.
Deputy Minister of Economic Development, Lakshman Yapa Abeywardena, however, defended the Government's policy on giving out land for development projects, saying that, there was no other way the country could be developed. "This land is given for development, and has been done with Cabinet approval," he said. He said, Sri Lanka should be proud that one of the best amongst hotel groups in the world, Shangri-La, was investing here.
"The UNP gave land that now occupies star class hotels such as the Hilton, the Galadari and Taj Samudra at very low amounts. We have got the maximum price for the land we have leased and sold," he said.
On Wednesday, Parliament passed amendments to two important laws namely, the Prevention of Money Laundering Bill and Suppression of Terrorist Financing Bill. The new laws will widen the scope of law enforcement authorities in tracking down and freezing assets of those found to be collecting or holding funds and property for terrorist activities.
The laws also enhances powers given to the Police to carry out investigations.