MOSCOW, Jan 29 (Reuters)- Literature lovers around the world on Friday held celebrations and paid tribute to Anton Chekhov on the 150th birthday of Russia's most universally acclaimed playwright.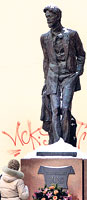 A woman stands next to the statue of Anton Chekhov in Moscow
Chekhov fans said the author famed for combining a raw emotional writing style with detailed studies of the human condition at the turn of the last century maintains his relevance more than 100 years after his death.
Russian President Dmitry Medvedev jetted to Chekhov's hometown of Taganrog in southern Russia, where he described the physician-turned-writer's short stories and plays as "immortal".
Clutching a bouquet of cream roses, the Kremlin chief said, "We can still learn from the dozens of Chekhov works, which enjoy an enduring universal appeal and have inspired other renowned writers, including James Joyce and Virginia Woolf.
Though his myriad of short stories are enormously popular in his homeland, it is his theatrical contributions to world drama that have earned Chekhov international fame.