WASHINGTON, Jan 30 (AFP) -The United States on Friday approved 6.4 billion dollars in weapons for Taiwan to help counter China's growing military, angering the rising Asian giant which warned of "serious" consequences.
The arms package includes Patriot missiles, Black Hawk helicopters, and communications equipment for Taiwan's F-16 fleet. But it did not include new fighter aircraft themselves, which had been part of Taipei's wish list.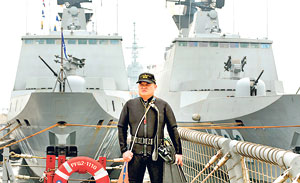 This photo taken on January 26, 2010 shows a Taiwan frogman standing in front of two French made Lafayette class frigates at the Tsaoying naval base in southern Kaohsiung. AFP
China considers Taiwan, where nationalists fled in 1949 after losing the mainland's civil war, to be a territory awaiting reunification, by force if necessary. It had warned Washington repeatedly against the arms sales.
The sale marks the most divisive act toward China by President Barack Obama, whose first year was devoted to broadening ties with Beijing despite discord on areas such as trade, human rights, Internet censorship and climate change.
"This is a clear demonstration of the commitment that this administration has to provide Taiwan the defensive weapons it needs," State Department spokesman Philip Crowley said. The United States since 1979 has recognized Beijing as China's sole government. But Congress at the same time required the United States to sell Taiwan weapons for its self-defense.
"We think that this action is consistent with the US one-China policy... and contributes to maintaining security and stability across the Taiwan Strait," he said.
A spokesman for the Chinese embassy in Washington said Beijing sent an urgent protest in the early hours Beijing time and also made its displeasure known when US officials spoke to a Chinese diplomat to unveil the decision.
The sale "constitutes a gross intervention into China's internal affairs, seriously endangers China's national security and harms China's peaceful reunification efforts," spokesman Wang Baodong quoted the demarche as saying.
"The US plan will definitely undermine China-US relations and bring about serious negative impact on exchange and cooperation in major areas between the two countries," he added.
The last US arms package for Taiwan, announced under previous president George W. Bush in October 2008, led China to snap off military relations with the United States temporarily.
Analysts said China this time could retaliate by refusing to support sanctions on Iran, a key US priority. Secretary of State Hillary Clinton appealed to Beijing on Iran's nuclear program in remarks in Paris hours before the Taiwan sale was announced.Obama's national security advisor, former general James Jones, said moments before the announcement that the United States was being "transparent" with China.