PORT-AU-PRINCE, Jan 29 (AFP) - Haiti's desperate earthquake survivors faced a new threat Friday as the United Nations reported a rise in cases of diarrhea, measles and tetanus in squalid tent camps for victims.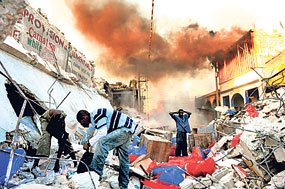 Looters scavenge for shoes in the rubble as a building burns in the background in Port-au-Prince on January 29. AFP
A vast foreign aid effort is struggling to meet survivors' needs 17 days after the disaster, which killed around 170,000 people and left one million homeless and short of medicine, food and water. "Several medical teams report a growing caseload of diarrhea in the last two to three days," World Health Organization spokesman Paul Garwood said.
"There are also reports of measles and tetanus, including in resettlement camps, which is worrisome due to the high concentration of people," he told journalists in Geneva. UN agencies and Haiti's government aim to launch a vaccination campaign against measles, tetanus and diphtheria next week. Just 58 percent of Haitian infants were immunized before the quake, Garwood said.
He highlighted a "critical" need for surgeons, with an estimated 30 to 100 amputations being carried out every day in some hospitals, while supplies of anesthetics and antibiotics were also needed. The 7.0-magnitude quake on January 12 decimated Haiti's already meager health system, creating conditions for disease to thrive in cramped refugee camps.
Only one person in two among the Haitian population of more than nine million people has access to clean drinking water, and only 19 percent have decent sanitation.