LONDON, Jan 30, (AFP) -Former British prime minister Tony Blair said Friday he had no regrets about removing Saddam Hussein after delivering a robust defence of the 2003 invasion of Iraq at a public inquiry into the war.
Rounding off his day-long evidence session, Blair said he accepted "responsibility but not a regret for removing Saddam," insisting the Iraqi leader was a "monster" who had "threatened not just the region but the world."As he left the London hearing, there were shouts of "liar" and "you're a murderer" from the public gallery, where some of the relatives of the 179 British troops killed in Iraq watched his appearance.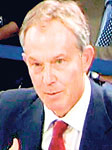 A television grab obtained in London on January 29, from UKPB Pool shows former British Prime Minister Tony Blair giving evidence to the Iraq War Inquiry in London. AFP
In earlier testimony, Blair denied striking a "covert" deal with then US president George W. Bush over the war, but said he had been convinced Iraq had weapons of mass destruction (WMD) and had to be tackled."The decision I took -- and frankly would take again -- was if there was any possibility that he could develop weapons of mass destruction, we should stop him," he said.
Almost seven years after the invasion and six months after British troops left Iraq, Blair's decision to go to war remains highly controversial, and hundreds of protesters demonstrated outside the inquiry venue. Inside, sitting before the panel in a navy blue suit and red tie, Blair gave a typically assured account of his conduct, defending the intelligence that made the case for war and insisting Iraq was a better place without Saddam.
He was asked whether he had pledged Britain's support for war during an April 2002 meeting with Bush at the president's ranch in Crawford, Texas -- 11 months before the British parliament voted for military action.
Blair denied this, saying he had told Bush "we are going to be with you in confronting and dealing with this threat" of Iraqi WMD.
He added: "How we did that was an open question, and even at that stage I was raising the issue of going to the UN."Blair admitted he and Bush had discussed the military option but only if the UN route failed, adding this was not a "covert position.
"Britain needed to be involved because it was potentially threatened by any proliferation of WMD, and Blair said that if military action was the right thing to do, he wanted to be "in there right alongside" Washington.