PORTO ALEGRE, Brazil, Jan 28 , 2010 (IPS) - Democratising economics as well as politics is essential for ending irrationality and discrimination as part of the struggle for social and environmental justice, said participants at one of the panels of the seminar assessing the World Social Forum's (WSF) first 10 years.
The field of "the gratis economy" or "freeconomics" is "expanding dramatically" with the rising importance of knowledge as a major component in goods and services, economist Ladislau Dowbor, a professor at the Catholic University of São Paulo, said in his presentation.
Using a street is free, and no one wonders about the cost of construction and maintenance. The same is true of vaccines, state schools and a wide range of public goods supplied at no cost to the user. But of course these do have costs, which are usually paid through taxes contributed by the general population, or surcharges on other products, he said. Vaccines save so much in health costs that it would make no sense to charge individual beneficiaries. As the knowledge society advances, freeconomics is expanding, based on relations that are entirely different from those derived from material goods, he said.
For instance, Dowbor said, if someone sells his watch, he has to do without it, but the case of knowledge is different: you are not deprived of it by sharing it with someone else; instead, "creative dynamics are generated," an outcome that encourages charging nothing.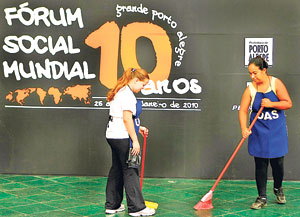 Cleaners work at the entrance of the 2010 World Social Forum on January 29, 2010 in Porto Alegre, Brazil. The Forum ends today with discussions regarding sustainable development, civil rights and the environment. AFP
In contrast, natural resources like water, biodiversity and magnetic waves can be appropriated by private interests and turned into profitable businesses, he noted. Bottled water sells for 1,000 times the cost of piped water, and the plastic bottles and transport it requires for distribution contribute to pollution costs.
There are collective consumer systems that reduce costs, Dowbor said. Piraí, a small town near Rio de Janeiro, offers free broadband internet connection to all residents, and computers for teachers and students at very low cost by means of bulk buying. This improves learning and promotes local industry and even exports, he said.
"Costs should be re-assessed, and more should be given away free," he said. There would be advantages, for example, to free public transport in huge cities like São Paulo, where residents spend an average of two hours and 43 minutes a day in traffic, at a terrible cost to everyone in terms of quality of life and pollution.
Unemployment has such enormous social costs that it would be worth giving unemployed people in cities work in environmental clean-up operations, said the economist, who gave more examples about wasteful practices that impoverish humanity, although they boost GDP.
But the apparently bright future of freeconomics has a dark side: the invisibility of "work assumed to be part of women's gender role," said Uruguayan sociologist Lilian Celiberti, of the Articulación Feminista Marcosur, an umbrella group for women's organisations in Argentina, Bolivia, Brazil, Chile, Paraguay, Peru and Uruguay.
The cost of reproducing the workforce "is borne by women, in every culture," because women are the main providers in the "care economy," a key concept for feminist economists, which extends beyond childcare and care of the elderly, sick or disabled, she said.
The sexual division of labour, where "private space is women's realm and public space is for men," encourages "masculine irresponsibility," reflected in fathers not recognising children born out of wedlock and "millions of other examples that can be seen in family courts."
"A society that nurtures this kind of human being is plundering nature and is careless of human beings themselves, and for that reason is suicidal," Celiberti said.
Delivering free public goods to which everyone has a right, like access to health, water, education and other basic services, is the state's duty, said Bolivian Dr. Nila Heredia, head of the Latin American Social Medicine Association (ALAMES).
The "mercantile logic" which makes "sick people feel guilty for not having looked after themselves properly" must be fought, as well as the pharmaceutical industry "that creates illness" in order to sell more medicines, she said.
French philosopher Patrick Viveret, author of a report titled "Reconsider Wealth," also condemned "mercantile fundamentalism" which he said leads to "privatisation of money, a public good in the service of exchange." But he highlighted the difficulties faced by freeconomics in the context of "relations of dependency and rivalry."
A good example of the solidarity economy, which is not-for-profit but does not exclude payment, was presented by João de Melo Neto, the coordinator of Palmas Bank, the first community microcredit organisation in Brazil, which was founded in 1998 in a poor neighbourhood in Fortaleza, the capital of the northeastern state of Ceará.
The Palmas Bank helped to organise and promote the local economies of many poor neighbourhoods in Brazil's impoverished semi-arid Northeast region, each of which issue "their own coin, so that local wealth circulates within the community." It has also inspired other such projects. At present, 52 community economies of this kind are operating all over the country.
The "for-free economy" was the subject of one of the four daily debates held Jan. 26-28 at the seminar to assess the WSF's first 10 years in Porto Alegre.
More than 8,000 people enrolled in the seminar, which is part of the Greater Porto Alegre WSF, consisting of a series of meetings in seven cities in Brazil's southernmost metropolitan area, close to the border with Uruguay.
On Jan. 26 Brazilian President Luiz Inácio Lula da Silva addressed the WSF and criticised the shortcomings of international aid to Haiti, where the capital, Port-au-Prince, was devastated by an earthquake on Jan. 12. He announced he will be paying a visit to the Caribbean country Feb. 25, to extend his solidarity.
Lula also remarked that the World Economic Forum in Davos, Switzerland had "lost its glamour" since 2003, the year he took office.