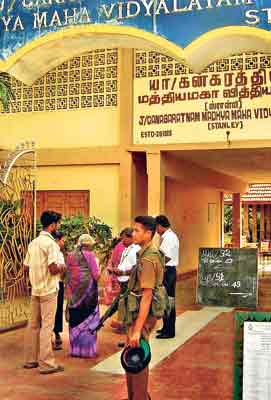 A few people turning up to vote at a school polling centre in Jaffna yesterday symbolic of the lack of interest among the majority of the residents. Pic by N. Parameswaran
Musical journey with
On June 18, Violinist Mandhira de Saram gave a recital at 49 Queensgate Terrace, the South Kensington home of Vernon Ellis, Chairman of the English National Opera.
US report highlights corrupt Lankan deals
Continued lending on the "scale of the IMF standby arrangement is irresponsible and continued silence by the World Bank on the issue of corruption in public sector 'reforms' in the country are indefensible", according to a top US whistleblower.
The Wagah syndrome: Pakistanis accuse India of terror ties
The war dance at dusk at the India-Pakistan border at Wagah sums up India-Pakistan relations. The well choreographed flag lowering ceremony with border guards on both sides of the divide performing the ritual to military precision has not undergone much change since I last visited this place in 2005..
The knights of cricket crown themselves
Their commitment to excellence was portrayed right in front of our eyes at the BMICH on Friday evening. The Schoolboy Cricketer of 2009 from Ananda College Dinesh Chandimal spent a gruelling day, spending it most of the time battling the pace battery of the New Zealand bowlers at the Colts Grounds and top scoring for the local team with a stylish 64 runs.
Racial, religious parties to be banned
Legislation to outlaw political parties bearing the identity of a religion or a race will be introduced in Parliament later this month, a senior minister said yesterday.
Mere 18 percent turnout at Jaffna poll
Only a few voters went to the polls in the northern town of Jaffna where elections to the Municipal Council were held yesterday for the first time in 11 years– with election officials saying only 18,336 voters or 18.26 percent of the100,417 eligible voters had cast their ballots.
A priceless catch
The news of the arrest of Kumaran Pathmanathan alias 'KP' could not have come at a better time for the Mahinda Rajapaksa administration.
Conversations about 'A Long Hot Day'

"My father was only allowed to come with me to Venlo, the border of Holland," says Anne Ranasinghe. "from there I was alone. All the way to the ship, then to the English port of Harwich, from there again by train to Liverpool Station in London where I met my aunt.
The battle of the two princes
Prince Veediya Bandara received a letter from Princess Samudra Devi. It read as follows. "My dear Prince, Jaya Bandara visits me often.
MOST VIEWED ARTICLES




LATEST NEWS