In response to stories revolving around hackneyed family panoramas, television viewers would have a fine opportunity to experience a miniplay series with 'Dumriya Andaraya' (Railway Stories) based on a novel subject.
The teledrama series, 'Dumriya Andaraya', screenplay written play written and directed by Kapila Kumara Kalinga will narrate historical and hilarious stories relating to trains and railway in the country.
This 25-episode series which will start its shooting end of September will have stories related to railway service, one of the oldest public services introduced by the colonial rulers.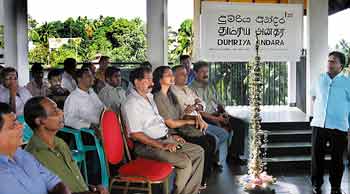 Transport Minister speaking at the muhurath for 'Dumriya Andaraya'
"Railway is quite close to the day to day life for over the last one century and it is the main infrastructure that developed closely with the public life," Kapila, a well known writer, lyricist and script writer said.
The tele-series is to unravel unknown yet interesting stories related to railway and it is educative yet entertaining.
"This would be a novel experience to our TV audience who are fed up of stereo-typed teledramas around theme on family problems," Kapila said. 'Dumriya Andaraya' also highlights historical and beautiful stations and newly built railway buildings and other locations that come under Railway Department.
The teledrama will highlight all the main railway lines like 'Udarata', 'Rajarata', Dakuna, 'Kelani Weli' and Negombo line where main locations are selected. Each episode with 23 minutes will have 12 episodes at the first stage of its production and a cast of 5 to 8 leading actors along with supporting cast.
Award winning veterans including Jayalath Manoratne, Chandani Seneviratne, Janak Premalal, Roger Seneviratne, Suminda Sirisena, Lionel Wickrema, Sarath Dikkumbura, Nimal Yatiwella and Buddhika Rambuwella will play the lead roles in Dumriya Andaraya along with a large number of up and coming artistes with few new faces will join in the cast of 'Dumriya Andaraya' and it is produced by Janaka Prasad Udugammeddage.
The technical crew includes Chandana Jayasinghe as cameraman, Lukshman Nishantha Peiries as art director, and Ranjith Balasuriya as the music director.