If the Janatha Vimukthi Peramuna (JVP) is flexing its muscles to become an even more vibrant if not virulent opposition, its breakaway faction, now the National Freedom Front (NFF) took the first step yesterday for a new alliance. It wants to team up with the nation's only paramilitary-cum-political party, the Tamil Makkal Viduthalai Pulikal (TMVP or Tamil People's Liberation Front).
On Thursday, the JVP-backed Buddhist monks of the Inter-University Students Federation (IUSF) tried to march towards "Temple Trees" to hand over a petition to President Mahinda Rajapaksa. They said they wanted to draw his attention to the rapidly deteriorating situation at Buddhist educational institutions in Anuradhapura, Homagama and the University of Colombo.
At the Dharmapala Mawatha roundabout they were fired at with water cannons and baton charged. Some had their robes pulled and were beaten badly. At least five of them were admitted to the National Hospital. Reports of the ugly incident where brute force was used on a peaceful protest received wide media coverage. The National Sangha Council which condemned the attack called for action against the Police.
It embarrassed Government leaders. President Mahinda Rajapaksa, who spoke at a ceremony in Beruwala after the opening of the Fisheries Harbour there, deplored the police action. He said the Police should not have used riot squads to stifle protests by University or Bhikku students. He said issues should be sorted out through dialogue.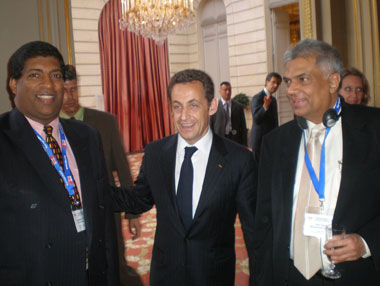 Ranil and Ravi in the high company of French President Nicholas Sarkozy in Paris during the IDU meeting.
However, no action was contemplated on the Police for resorting to that course of action on Thursday. Besides an admonition to the top brass, the authorities were examining tough new measures to prevent the conduct of marches, rallies or demonstrations in Colombo city areas that have been declared as High Security Zones. This is expected to come in the form of new Emergency Regulations. Stiffer penalties are to be imposed on those violating the new laws.
Thursday's protest, no doubt, is only a smaller test of strength for the JVP. A bigger one will come on July 10 (Thursday) when the party stages a countrywide one-day general strike. Members of trade unions affiliated to the JVP will stay away from work on this day. The strike will cover all state-sector institutions but will not affect the private sector. The main JVP demand is for a wage increase of at least Rs 5,000.
"If the Government does not come up with an acceptable solution to our grievances, the trade unions will decide on the next course of action," JVP leader, Somawansa Amerasinghe told The Sunday Times yesterday.
He said that according to the Central Bank's annual report, a family of four needed a monthly income of Rs 32,000. Nevertheless, the Government is not prepared to listen to the workers' demands. Vast sums of money were being spent on tamashas. Corruption was widespread. A nation was facing starvation, he pointed out.
Amerasinghe said, "the Government knows it will not be able to give anything. The economic situation is worsening. So is the political situation. The government is trying to distract attention by conducting two more elections to the North Central and Sabaragamuwa provincial councils. It will use strong-arm tactics, like in the Eastern Province, to win the polls."
One time JVP strongman and now NFF leader Wimal Weerawansa, took the unusual step of starting talks with TMVP leader Sivanesathurai Chandrakanthan, better known as Pillayan, to form a common alliance. The duo met yesterday at the NFF'S office at Battaramulla to begin exploratory talks.
Weerawansa told The Sunday Times the meeting was held to create greater understanding between the two parties and to ascertain possibilities of a "long term relationship." He said a common alliance between the NFF and TMVP would help his party begin political activity in the East. However, the NFF is yet to be recognised as a political party and is awaiting intimation from the Commissioner of Elections. He is also yet to accept the party's symbol which is a crown.
For the NFF, the first show of strength will come tomorrow when it has its first public rally at the Ananda Samarakoon pavilion outside the supermarket at Nugegoda. Here, Weerawansa is expected to disclose his new party's plans to forge a link with the TMVP. Despite gaining control of the Eastern Provincial Council after the May 10 elections, Pillayan and his group are yet to win "recognition" from many Colombo-based western diplomatic missions. Some have already consulted their governments to ascertain whether official contacts could be made and to what degree.
This is because the TMVP, despite being a recognised political party, is still a paramilitary group. For the same reason, a three-member top level Indian delegation that visited Sri Lanka last week chose not to meet TMVP leadership. They met leaders of other Tamil political parties including Douglas Devananda (Eelam People's Democratic Party) and Rajavarothayam Sampanthan (Tamil National Alliance). The Indian team comprised National Security Advisor M.K. Narayanan, Foreign Secretary Shiv Shankar Menon and Defence Secretary Vijay Singh.
Even if the NFF is yet to establish itself as a political party, its moves to forge an alliance with the TMVP assumes significance for a variety of reasons. The TMVP is a constituent partner of the ruling United People's Freedom Alliance (UPFA) Government of President Rajapaksa. By extension, the NFF would also come under the Government umbrella and be part of the same label at any future elections. Of course, for the moment, Weerawansa has made clear his party would contest the upcoming provincial council elections only if recognition is received from the Commissioner of Elections.
For the TMVP, a tie-up with the NFF will become a bridge to extend its activities to the southern polity. All in all the emerging metamorphosis portends signs of an eventual grand alliance with the parent organisation being the SLFP. Such a common front at any future general elections will thus be a strong possibility.
For the main opposition United National Party (UNP), there was some embarrassment this week. Its Sabaragamuwa chief ministerial candidate Upul Sannasgala, whose nomination was endorsed by the party's Political Affairs Committee, backed out. UNP leader Ranil Wickremesinghe had obtained his consent before calling upon the party to name him. However, Sannasgala said he was withdrawing for personal reasons. The UNP's Nomination Board was busy yesterday at Sri Kotha deciding on party candidates for the two provincial council elections.
Former Army Chief of Staff, retired Major General Janaka Perera, said yesterday he had "finally decided" to accept an offer by the UNP to be its Chief Ministerial candidate for the North Central Province. In a statement he issued Maj. Gen. (retd.) Perera said "Today, our country is beset with violence on a scale that has never been experienced before, coupled with an almost unbearable burden of high cost of living, waste of public funds, which could otherwise be diverted to alleviating the difficulties of many of the poor and downtrodden, as also, inefficiencies in the delivery of services to the people and a hugely fragmented society, greatly lacking in respect for human dignity and right."
He added: "I was met by a large number of families of services personnel, whose children, fathers and mothers have been lost in the service to the country, as well as civilians who have lost their loved ones in this terrible conflict. Listening to their tales of woe could touch a chord in many a hard heart. I know very well the emotional impact those families must be undergoing because a large number of those deceased patriots have served in the battlefield with me. I committed myself, through whatever means possible, to work towards encouraging our great Ranaviru Heroes, as also, those others who have suffered injuries and displacement from the war to give recognition to their own talents and self reliance, in order to be able to live with honour and dignity. This initiative had only just begun."
UNP leader Wickremesinghe returned yesterday after a visit to Britain and France. If he met Lord Malloch Brown, Minister of State in the Foreign and Commonwealth Office in Britain, his trip to France had a string of important engagements.
At the Senate House in France, the annual meeting of the International Democratic Union (IDU) was held. Wickremesinghe succeeded in urging the IDU to adopt a resolution calling upon member states to discuss the disturbing events in Sri Lanka in their respective Parliaments. He made the point that there was a serious erosion of democracy. He said the media were being harassed, threatened and intimidated. The Government was bent on suppressing dissent.
Wickremesinghe had a meeting with French President Nicolas Sarkozy and Prime Minister, Francois Fillon. He was accompanied by Ravi Karunanayake MP. During the brief meeting with Sarkozy, Wickremesinghe was to brief him on what he called threats to democracy in Sri Lanka including the suppression of media freedom.
Once more, the Government and the Opposition's strength will be put to test at the upcoming provincial council elections. A free and fair poll will no doubt be a pointer to how the people, battered by the rising cost of living and insecure due to an intensifying separatist war, will respond.