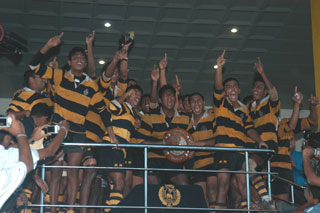 It was Royal's moment of glory last year
It is Bradby time once again and history goes back to 1945 when the Shield was first awarded. Turning the pages of the souvenirs of the two schools one can see interesting records of the pre-Bradby and Bradby series covering scores, captains, players, venues and a whole lot of analyzed records.
A student of numerology might notice a curious relationship between Trinity and the number 7 and Royal and the number 8 with regards to the Bradby series. From 1947 onwards, Trinity has won the Bradby in the all the years ending with number 7, winning in 1947, 1957, 1967, 1977, 1987 and 1997. The connection of the 7 could not be carried to the 21st century. It was broken by the Royal team in 2007 when they beat Trinity in Kandy by 20 points to 12 and then in Colombo by 15 points to 11.
Royal's connection to the number 8 started in 1948 when under A. Cader. Royal won the Bradby for the first time in the series with 6 points to 3 in the 1st Leg and 8 points to 6 in the second. Thereafter Royal continued to dominate the number 8s and produced famous sides. The years 1958, 1968, 1978, 1988 and 1998 not only regained the Bradby; the teams had many other noteworthy achievements.
I recall writing an article for the 1998 Royal Souvenir when the first leg was played in Colombo with Shanaka Perera leading Royal and P. Jayawardene leading Trinity. I predicted that Royal would win back the Bradby as done in all previous years ending up with the number 8. Royal lost the first leg 18 points to 20 at the Sugathadasa Stadium and I was wondering if I would have to eat humble pie with my prediction based on historical reasons. The Royal team of 1998 did not let the side down. They beat Trinity in their own den by 42 points to 11 thus bringing back the Bradby to Reid Avenue.
The year 8 has come again and it is left to be seen if Trinity can do what Royal did in 2007 to break the hoodoo of the years ending with number 7. The Royalists could very well do what the Royal Team did in 1998 ten years ago… lose the first leg and win the second and the Bradby.
Or will the numbers change in the 21st century, with years ending with 7 resulting in Royal wins and number 8's going to Trinity? We have to wait another week to find out. Best wishes for both teams to break the records or to keep the records. Harin M