By Saif Izzadeen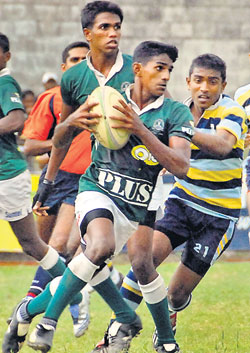 An Isipatana player gathers speed making way for another try. (Pic Sanka Vithagama)
Isipathana scored a resounding 62 points to 3 win over Vidyratha in the inter school rugby match at Havelock Park yesterday.
Isipathana who led 28 - 3 at half time made up their points from two goals, nine tries and one penalty while the Kandy lads responded with a solitary penalty.
Isipathana's three quarters were in a class of their own as they turned in a flawless performance. The Isipathana forwards won plenty of good ball and set their backline ticking at every given turn.
Vidyratha were clueless as how to stop the rampaging Pathana back line and cut a sorry figure on the field. Vidyartha drew first blood and obtained a 3-0 lead it was anticipated that the Vidyartha lads had turned out for the better. However it was not to be.
Isipatahna scored their tries through centre Srinath Sooriyabandara (3), winger Vishwajith Jayasinghe (3), full back Ashan Gallege (2), fly half Dulantha Gunasekera(2), prop forward Dimthri Wijetunga(1). Srinath Sooriyabandara was successful with two conversions and put over a penalty.
For Vidyartha Tharaka Dissanayake was on target with a penalty.
Referee - Aruna Jayasekera
Isipatahna won the junior game 17-5.