By S.R. Pathiravithana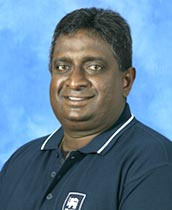 Duleep Mendis
The proposed triangular limited overs series between Sri Lanka, India and South Africa scheduled for May 2009 is now in serious jeopardy. The reason being the IPL 2009 which was hatched after the initial agreement of the tri series is now over-lapping the beleaguered series.
Prior to this the tri-series between the three countries went behind the curtain in 2006 as the South Africans took to their heels following a bomb explosion in Colombo and the rest of the series was washed off due to rain.
Confirming the situation the Chief Executive Officer of Sri Lanka Cricket Duleep Mendis said "Yes, the IPL is overlapping the series and we have notified even the Indian Board of this situation. We are looking for a set of fresh dates when the three countries are free to agree upon. However we are scheduled to meet in Dubai at the end of this month and we are trying to make some arrangement during the meeting".Once again Sri Lankan cricket is going to face a huge cash erosion as a result of this situation.
However it is very unlikely that the tri-series will take place next year. From June to August 2008 Sri Lanka will be hosting India in their FTP series and this will be followed by the Champions Trophy in Pakistan in September.
After the Champions trophy India is engaged in playing against Australia, Pakistan and New Zealand till March 2009, while Sri Lanka will play twice against Zimbabwe and once against Bangladesh.
Once the IPL ends in June 2009, Sri Lanka will be busy once again hosting Pakistan and New Zealand before meeting India in their return series in November 2009. During this period South Africa will be engaged in a series against Australia. In December 2009 Sri Lanka will host Bangladesh.